All this hoopla over his birthday, it is now said, was organised by Tendulkar's business partners, advertisers and promoters so that they could build an incredible icon out of the sportsman, which would make him 'God' in the eyes of the poor millions in India. "Building such icons and then milking them to create profits for the celebrity concerned, the media and the promoters or publicity and event designers has become the biggest marketing game of the decade," says a senior executive of a public relations company which specialises in celebrity management, "Sachin is an all-time favourite of the 'endorsement' market... Entire campaigns for some products are based on his huge popularity. But the agencies handling his endorsements have also to keep this popularity quotient going to make Tendulkar an attractive proposition for advertisers. Companies like ours create the circle effect, whereby we promote him as an icon in the media and then plan events or campaigns around him to enable the sponsors to increase the sales of their products, using his brand value."
Though sachin Tendulkar was the main icon in the past few months of the World Cup, other icons have also had the same treatment. When Sourav Ganguly and Hrithik Roshan were riding a huge wave of popularity, we created the Hero Honda campaign," says Vinita Bangard of Percept D'Mark, "We worked with Kareena Kapoor and Shah Rukh Khan for the Airtel campaign when they made Asoka... If celebrities, especially from the film or sports world, are in the news or in gossip columns for any reason, they are just the right fodder for the marketing industry for endorsements...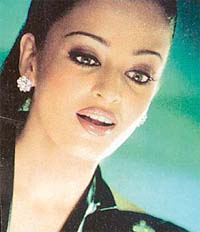 Aishwarya has been projected as the leading female brand icon and her face sells anything from diamonds to cold drinks

According to marketing gurus, Sachin Tendulkar and Amitabh Bachchan continue to be the strongest brands in the Indian market. Aishwarya Rai comes next with her international success in Devdas... Her endorsements for diamonds, beauty products, soft drinks, film rolls and now her international contract with Garnier — for their range of Asian beauty products — have made her the numero uno female icon in India. News that she may be the next Bond girl has increased her brand value even more."
The hunger for icons from India is spreading internationally like an epidemic. This is why there are so many events and shows featuring stars, artists and sportsmen in western countries, Australia and New Zealand. It is a known fact that many iconic celebrities earn more money from their endorsement contracts and appearances than from their main profession. Most icons charge money even to appear at charity functions. Critics of these get-rich-quick expeditions of the marketing industry and celebrities say that manipulations of the brand value of icons sometimes dip to crass, uncouth levels. None of the celebrities — who are 'used' for everyone's benefit — give anything back to society or the country in return for the adulation and love, which millions give them without reserve. It is a pity, they say, that the love of innocent admirers is used for making fast bucks for manufacturers of luxury goods, promoters, advertisers and the narcissistic celebrities themselves.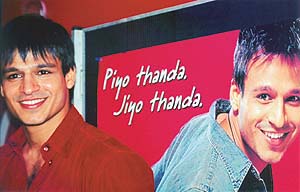 Advertisers were quick to dump Hrithik in the Coke ad to cash in on the rising popularity of Vivek Oberoi

But as in all cases, there is a flip side to this scintillating coin of glory. Celebrities and icons, who are built up relentlessly by the promoters and the media, can fall from grace as quickly as they can climb the ladder of popularity. And no other example illustrates this point better than the case of the erstwhile 'heartthrob' of Indians, Hrithik Roshan. The media, the advertisers and the promoters — all have dumped him mercilessly in the past two years, during which he could not notch up even one successful film. The coming into limelight of moderate-bodied heroes like John Abraham and Dino Morea and of course the tidal-wave popularity of Vivek Oberoi, have made his sort of macho body with a gentle mind out of fashion. His honey and chocolate looks, with a body built like a wrestler, do no good to the genre of films which are popular right now. So what happens? Even Coca Cola, the largest spender in the advertising market, which pursued him relentlessly for dates and agreed that his father would direct the films, unceremoniously cuts his contract in favour of the current icon Vivek Oberoi, giving some lame excuse for their action. It is reported that Hrithik had to return Rs 9 crore to Coca Cola from the money he was paid against his endorsements. Hrithik's ad for Hero Honda is also off television screens. Female stars who used to do soap, cosmetic or household appliances endorsements, have paled into insignificance compared to Aishwarya Rai. Similarly, though Sourav Ganguly, Virendra Sehwag and Rahul Dravid played excellently in the recent World Cup, their brand value has not been as high as that of Tendulkar. The result? They have only done small endorsements for comparatively small money!
Advertising and marketing are heartless businesses where nobody is nobody's friend. Loyalty is shown only to the share of the kitty, which comes to each partner of the 'icon-creating' machinery. If the money roles in, there is respect and recognition. When the cash flow dries up, so does the emotional hype created around a celebrity!