Biggest-ever narcotics haul, claim officials
Amritsar, June 13
With the arrest of two Nigerian and Kenyan nationals on Wednesday, Customs and BSF officials claimed to have seized such a large quantity of contraband from this part of the country for the first time.

In video (56k)

42 pilgrims' names deleted
Jatha to depart today
Amritsar, June 13
Fortytwo Sikh pilgrims find their names deleted from two lists which the SGPC and the Delhi Sikh Gurdwara Management Committee (DSGMC) had submitted to the Ministry of External Affairs (MEA) for clearance to visit Pakistan.
KIDNEY SCAM
Ex-Principal of medical college arrested
Amritsar, June 13
The Delhi Police has arrested Dr O.P. Mahajan, a suspended Principal of Government Medical College Amritsar, in connection with the removal of kidney of a donor without his consent. Dr Mahajan was the chairman of the authorisation committee for clearing the names of the donors.
Mysterious disease claims five lives
Faridkot, June 13
Five persons have died in Aryanwala village of this district due to a mysterious disease in the past 20 days.


In video
Modelling and show business, earlier considered taboo by the prestige-conscious middle-class, show signs of rising popularity among the youth of Punjab.
(56k)
Saru complains to National Commission for Women
Patiala, June 13
A former Punjabi University Fine Arts Department student Saru Rana, who had accused former varsity Vice-Chancellor, Dr Jasbir Singh Ahluwalia, of attempting to rape her, today appealed to the National Commission for Women to conduct an inquiry against suspended Fine Arts Department teacher Dr Saroj Rani whom she had accused of "using" students for her own benefits.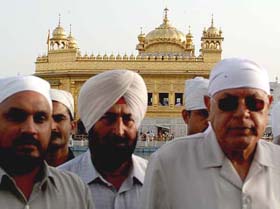 Farooq Abdullah (R) pays obeisance at the Golden Temple in Amritsar on Friday.
— Photo Sawinder Singh
Hepatitis C cases on rise in Kotkapura
Bargari (Faridkot), June 13
Hopes of four local men to make it big in Arab countries were dashed when during medical examination they were found infected with hepatitis-C. They returned home from New Delhi after spending about 50,000-75,000 each for fee of the travel agents.
NGO to probe sale of blood
Bathinda, June 13
The Lawyers for Human Rights International, an NGO, yesterday formed a three-member panel, comprising of Mr Gurdev Singh, Mr Jagwinder Singh Gill, and Mr Sukhdarshan Kumar Sharma to inquire into the alleged incident of selling of blood from the local blood banks which had recently led to large scale protests.
Zoo ex-chief denied bail in assets case
Patiala, June 13
Suspended Punjab Chief Warden (Zoos) Dr Vinod Sharma was today denied anticipatory bail in the disproportionate assets case registered against him by the State Vigilance Department.
PNB holds meeting with rice millers
Jalalabad, June 13
Mr U.S. Bhargava, General Manager of Punjab National Bank, Punjab zone, has disclosed that the bank had set a target to interconnect its 500 branches by the V-set technology by the end of this financial year under the Core Banking Solution (CBS) scheme, besides providing tele-banking and tele-fax banking facilities.
HIGH COURT
HC stays arrest of school clerk
Chandigarh, June 13
The Punjab and Haryana High Court yesterday stayed the arrest of a Ludhiana-based school clerk, accused of being involved in embezzlement of fee amount after forging the receipts and other documents.
Suspension stayed

Panchayat poll roster
Charges false: club management
Patiala, June 13
The Rajindra Gymkhana Club management today asserted that a member had filed a false case against it because he had been asked to explain his conduct following a complaint that he had beaten up another member in the card room of the club and snatched his gold chain, last week.
19 Improvement Trusts revived
Chandigarh, June 13
In a significant move, the Punjab Government today not only ordered the revival of 19 Improvement Trusts but also appointed their new chairpersons, thus setting in motion the exercise of political adjustment of party activists at the district level.
PSEB flying squad gheraoed
Bathinda, June 13
A case was registered today against more than 16 persons off Sivian village of this district for their alleged involvement in gheraoing a flying squad of the Punjab State Electricity Board (PSEB) led by the Subdivisional Engineer (SDE), Mr Kanwaljit singh, during a raid in the village to check the theft of electricity.
Farmers' rally against PSEB privatisation
Mansa, June 13
Hundreds of farmers today held a rally in the city to protest against the privatisation of power supply and irregular supply of electricity and sat on dharna in front of the local office of the Punjab State Electricity Board (PSEB).
Do not pay power bills, BKU to farmers
Tarn Taran, June 13
The Kisan Sangarsh Committee and the Bhartiya Kisan Union (BKU) have called upon the farmers to unite against the anti-Kisan policies of the Punjab government and has also asked farmers not to pay their power bills of tubewells.
'Enact law for farm workers' welfare'
Sangrur, June 13
The All-India Agriculture Workers Union (AIAWU) yesterday urged the Union Government to enact 'Comprehensive Central Legislation for Agriculture workers' to save agriculture workers from the excesses of landlords and the police in the villages.
Canal water released for irrigation
Fazilka, June 13
Dr Mohinder Kumar Rinwa, MLA, Fazilka and Parliamentary, Secretary, Punjab in a statement here today said that canal water in all distributaries of the Fazilka and Abohar areas had been released for irrigation on June 10.


Lack of funds hits development work
Fatehgarh Sahib, June 13
The paucity of funds has not only affected various development activities in the district but also affected the newly constructed district administrative complex, where the situation is becoming worst day by day.


2 convicts on parole held for smuggling
Bathinda, June 13
Two persons convicted for murder and undergoing sentence in the Central jail here started smuggling of narcotics when on parole. Bhola Singh, a resident of Mansa Khurd village and Baldev Singh, a resident of a village falling in district, were sentenced to life imprisonment for murder few years ago, were caught by the Talwandi Sabo police when they were smuggling opium.
Woman gives insecticide to 4 daughters, commits suicide
Abohar, June 13
Guddi (40), mother of five daughters, reportedly committed suicide yesterday after making her four daughters consume insecticide. This incident was reported from Hinjrasar village falling in Sri Ganganagar region bordering Abohar.
Married woman commits suicide
Fazilka, June 13
Binder Kaur (23) of Chack Pakhi village, 20 km from here, allegedly committed suicide yesterday due to reported torture by her husband.
Prisoner escapes from hospital
Hoshiarpur, June 13
Prisoner Gagandeep Singh son of Pal Sigh of Buddi village under Tanda police station of District Jail Hoshiarpur escaped from police custody from the local Civil Hospital in the early morning today.
Two killed in land dispute
Patiala, June 13
Two persons were killed and two others injured following a land dispute at Bahal village in Bhunerheri block, about 25 km from here this morning.
One killed in car-bus collision
Patiala, June 13
One person was killed and another injured when the car in which they were travelling collided with a bus near the Hero Honda agency on the Sirhind road here today.


Staff of DIETs await salary
Sangrur, June 13
Principals, senior lecturers, lecturers, class III and IV employees, working in various District Institutes of Education and Training (DIETs) in the state, have not been paid their salaries for the past couple of months, affecting the functioning of these institutes.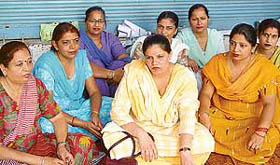 Education Dept staff begin dharna
Chandigarh, June 13
More than 450 employees of the ministerial cadre in the head office of the Education Department, Punjab, here, are on the warpath. They have initiated a relay strike in support of their demands. Fourteen employees today sat on dharna in Sector 17 to mark their protest.
Ministerial employees of the Punjab Education Department sit in dharna in support of their demands outside the DPI office, Sector 17, Chandigarh on Friday. — A Tribune photograph