Private parties to maintain road berms, parks
Chandigarh, June 13
Untidy road berms, verges, traffic islands, parks and green belts along V-3 in the city could be a thing of the past with the Municipal Corporation today deciding to hand over their maintenance to private parties in lieu of a permission to display their advertisements in these areas.
Bhardwaj's lockers yield lakhs
Chandigarh, June 13
The CBI is reported to have recovered currency notes worth lakhs and some property documents from two lockers of suspended Judicial Magistrate Surinder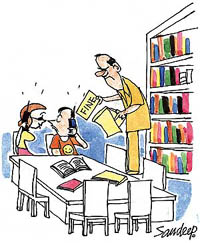 Singh Bhardwaj.
Cell phone use on PU campus can cost you dear
Chandigarh, June 13
Young lads and lasses need to be more disciplined in the use of mobile phones while on the Panjab University campus or vigilant eyes of a university official could haul them up. It could end up in a fine of Rs 100 or confiscation of the mobile set.

Ranbaxy fire: admn failed public
SAS Nagar, June 13
The poor handling of the general public following the June 11 blasts and fire at Ranbaxy, has laid bare the inefficiency and unpreparedness of the Civil Defence System, SAS Nagar. Interestingly, listed as one of the few Civil Defence Category-1 towns of Punjab, SAS Nagar has also been chosen by the Central Government to have the Civil Defence control room for this area.


Chemical accidents: Contingency plan approved
Ranbaxy fire: 4 still critical
Ranbaxy forms panel to assess damage to adjoining buildings
PSHRC directs Home Secy on Ranbaxy fire

The broken windowpanes of the Civil Defence Training Institute, SAS Nagar. Seven persons sleeping inside it were injured when splinters hit them following the fire incident at Ranbaxy plant on on Wednesday. A Tribune photograph
Pre-marital counselling centre at PU soon
CSWB for an equitable social welfare set-up
Chandigarh, June 13
In the 50th year of its inception, the Central Social Welfare Board is ready to break new grounds in promoting social welfare activities and implementing social welfare programmes for women across the country.
Administration's ultimatum to slum-dwellers
Chandigarh, June 13
A team of the Chandigarh Administration led by the Deputy Commissioner, Mr Arun Kumar, today went to Shaheed Bhagat Singh Colony (south of Sector 49) and asked the ineligible and illegal slum-dwellers to vacate and remove their belongings within the next three days, failing which the Administration would be left with no option but to remove them physically.