HOROSCOPE
THE TRIBUNE MAGAZINES
On alternate Mondays

On Sundays
On Saturdays
IN PASSING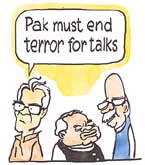 Tomorrow Advaniji will repeat the statement and the day after Fernandes and...

by Sandeep Joshi
Pandey confirms detentions

Punjab page:

Badal's arrest will be suicidal for Cong: SAD

Dhindsa threatens stir on Badal's arrest

Akali leaders camp at Narottam's house


Jats, Dalits sign peace agreement
Talhan (Jalandhar), June 14

The weeklong tension in this caste politics-ridden village is likely to boil down following a formal compromise reached between leaders of the warring Dalits and Jats today, thanks to the persistent, but, "secret" efforts of three hardliner Sikh leaders, the leaders of the Bhartiya Janata Party and the Bahujan Samaj Party and top administrative and police officials.
In video (28k, 56k)

Punjab page: 'Hand over' Talhan gurdwara to SGPC


Happiness returns to Gurdwara Baba Nihal Singh as agreement is reached between the Dalits and the Jats on Saturday. In the picture are the Head Granthi and sevadars.
— Tribune photo Manoj Mahajan

Akal Takht chief Vedanti may lose job
Amritsar, June 14
Two Sikh high priests, Giani Joginder Singh Vedanti (Jathedar Akal Takht) and Giani Bhagwan Singh may lose their jobs as granthi Golden Temple and head granthi Akal Takht respectively as the Sikh Gurdwara Judicial Commission has directed the SGPC their appointing authority to remove all employees who are above 60.


Crossing hurdles, jatha enters Pak
Lahore, June 14
Crossing one hurdle after another, Sikh pilgrims numbering about 150 finally crossed over into Pakistan via the Wagah check-post here this afternoon. Formalities apart, both the Ministry of External Affairs and the Ministry of Home were responsible for causing unnecessary delay.


A Pakistan Sikh (left) greets Indian pilgrims at the Wagah border check-post, as they cross into Pakistan on Saturday. — Reuters photo
In Her World today
Activists vacate Talhan shrine
June 14, 2003

Pak epicentre of terror: Advani
June 13, 2003

2 'skeletons' found, team begins probe
June 12, 2003

Pak yet to respond: Advani
June 11, 2003

SC refuses to intervene
June 10, 2003

Cops descend on Talhan
June 9, 2003

Mosque demolished at Advani's instance: accused
June 8, 2003

Talhan, Jalandhar remain tense
June 7, 2003

12 hurt in Jat-Dalit clash
June 6, 2003

88 more die of heatwave
June 5, 2003