In Health Tribune today
HOROSCOPE
THE TRIBUNE MAGAZINES
On alternate Mondays

On Sundays
On Saturdays
IN PASSING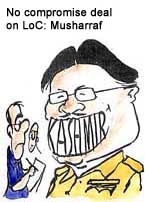 by Sandeep Joshi
HK Dua takes over as Editor-in-Chief of Tribune group


Chandigarh, June 17
Mr H.K. Dua today took over as Editor-in-Chief of The Tribune group of newspapers. Mr Dua is a former Editor of the Hindustan Times, Editor-in-Chief of The Indian Express and Editorial Adviser to The Times of India.
Kanchi seer sends new proposal
Bajrang Dal backs VHP stand
Lucknow, June 17
In a fresh bid to resolve the Ayodhya tangle, Kanchi Shankaracharya Jayendra Saraswati has sent new proposals to the All-India Muslim Personal Law Board.


Editorial: VHP again
Madhumita case in CBI hands
Lucknow, June 17
The Uttar Pradesh Chief Minister, Ms Mayawati, today handed over the Madhumita Shukla murder case to the CBI.
Jatha reaches Panja Sahib
Panja Sahib (Hassan Abdal), June 17
This place of great reverence for the Sikhs derives its name from the hand (Panja) imprint on a boulder above a water spring. The place falls in Hassan Abdal, which is 48 km from Rawalpindi en route to Peshawar or Abbottabad.
Hail, rain in HP areas
Shimla, June 17
A brief spell of rain accompanied by hail lashed the capital here and its surrounding areas this afternoon. The Regional Horticultural Research Station at Mashobra near here recorded 3.6 mm of rainfall, weather officials said.


Insurance cover for Amarnath pilgrims
Pahalgam, June 17
The Jammu and Kashmir Government is introducing, for the first time, an insurance cover for Amarnath pilgrims besides offering a special tourist package to facilitate their extended stay in the valley on concessional rates.

In video: The Jammu and Kashmir government previews security measures for a safe pilgrimage to the Amarnath shrine. (28k, 56k)

Musharraf backtracks on Kargil, talks peace
June 17, 2003

PM for consensus on sending troops to Iraq
June 16, 2003

Pak intent non-peaceful: MEA
June 15, 2003

Activists vacate Talhan shrine
June 14, 2003

Pak epicentre of terror: Advani
June 13, 2003

2 'skeletons' found, team begins probe
June 12, 2003

Pak yet to respond: Advani
June 11, 2003

SC refuses to intervene
June 10, 2003

Cops descend on Talhan
June 9, 2003

Mosque demolished at Advaniís instance: accused
June 8, 2003