T E N N I S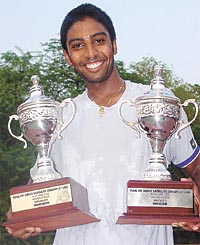 Prakash Amritraj with the Single and Double Trophy's of the ITF men's satellite circuit at the Delhi lawn Tennis Association Deco-turf court here today. — Tribune Photo Mukesh Aggarwal
Raghav Kakkar bowls R P Academy to victory
New Delhi, June 21
A deadly spell of 3 for 30 by left-arm spinner Raghav Kakkar helped R P Academy defeat Bharat National Cricket Academy by seven wickets and score their third consecutive victory in the first Turf Youth Cup Under-15 Cricket Tournament at the Airport Authority of India ground.
Uttaranchal beat Shastri

Harry Academy win

Ravindra School win
RBI to meet Delhi Admn in final
New Delhi, June 21
Reserve Bank of India will take on Delhi Administration in the final of A Division of the Delhi Soccer Association Institutional Football League at the Ambedkar Stadium on Sunday at 4.15 pm.
DIGEST
Yashika downs Ashmeet in Tirath Ram Badminton
New Delhi, June 21
Yashika Mudgal downed Ashmeet Kaur 11-9, 11-8 in a first round match of the girls under-13 section in the 14th Pt. Tirath Ram Badminton Tournament at the New Era Public School court, Mayapuri.