BODY & MIND
Healthcare services at affordable prices
Tripti Nath
FAMILIES fed up with hefty medical bills can now opt for the 'Health Edge' card launched by Apollo Health and Lifestyle Limited (AHLL). The card unveiled recently by Delhi Chief Minister, Sheila Dikshit and the CEO of Apollo Health and Lifestyle Limited, Mr Ratan Jalan, promises consumers a range of benefits including six free consultations at the Apollo clinics, 20 per cent discount on diagnostic services and 15 per cent discount on health check packages. The Health Edge card membership promises 10 per cent discount on services at the
Apollo Hospitals besides free home delivery of medicines from the Apollo clinic pharmacy. The Health Edge card has an inaugural price of Rs 749. Additional cards for three family members will also be offered at no extra cost. The Health Edge card holders will also be invited to health seminars organised by Apollo clinics.
Mr Ratan Jalan says that the card has been designed to give every family access to the best healthcare services at affordable prices.
AHLL, a fully owned subsidiary of Apollo Hospitals Group, plans to set up 250 clinics across the country. The National Capital Region already has six clinics including four in Delhi and one each in Faridabad and Gurgaon.
Foreign visitor at EHIRC
The Prime Minister of the Lao People's Democratic Republic, Mr Bounnhang Vorachit, visited Escorts Heart Institute and Research Centre here recently to take a look at the facilities.
Dr R.R. Kasliwal, Head of the Department of Cardiology at EHIRC accompanied the visiting dignitary on his round of the hospital and showed him the angiography lab, heart command centres and the operation theatres. Mr Vorachit evinced interest in the entire facility and said that his government would like to collaborate with Escorts to set up a similar institution in Lao. He was particularly impressed by the three year long Diplomat National Board in Cardiology and Cardiac Surgery offered by EHIRC to MBBS and MD doctors every year. Dr Kasliwal is the programme director of the DNB in Cardiology. The DNB is affiliated to the National Board of Examination.
US nutrition expert to visit India
Heather Livingston, a well-known sports nutrition expert from US is visiting India in the coming week to launch Cellu-Loss, a superior vitamin based herbal and mineral formula which supports weight management and reduces water retention. The product is being launched by Herbal Life, manufacturers of nutrition supplements.
Vice-president of Nutrition Management and a member of the Medical Advisory Board of Herbal Life, Livingston research on nutrition and weight management programme has won international acclaim.
Diagnostic product for patient comfort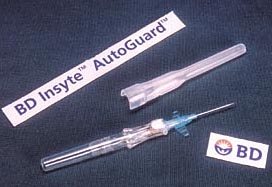 BD Insyte AutoGuard launched by Becton Dickinson India.
Becton Dickinson India (BD India), known for medical supplies and devices, laboratory equipment and diagnostic products, has launched a unique shielded cannula BD Insyte-W Autoguard, which promises to reduce sharp injuries to healthcare workers. BD is also launching BD Venflon Pro, a porter iv catheter for the IV Cannulae-all new generation products for better patient comfort. The unique feature of BD Insyte W Autoguard is its patented Bd Autoguard push button shielding technology, which is meant to protect healthcare workers from accident needle stick injury. Such injuries are the main source of transmission of infectious diseases in the healthcare workers. BD Venflon Pro is aported catheter. The catheter material softens in blood stream by 75 per cent in just half an hour. This reduces the irritation to the vein and other cannula-related complications.
Ayurvedic Science Centre launched
Hindustan Lever Limited (HLL) has announced the launch of Ayush Ayurvedic Science Centre in Andheri, Mumbai. The main objective of setting up the centre is to promote an appreciation of the scientific truths about Ayurveda. The centre will pursue its objectives by conducting national and international seminars, sponsoring research programmes, promoting health initiatives for the benefit of the people and disseminating information on various aspects of Ayurveda to the scientific and medical community and the masses. HLL entered the Ayurvedic personal care and healthcare market in 2002 with the launch of its brand Ayush.
In the service of the poor
The Union Labour Minister, Mr Sahib Singh Verma, has felicitated the chairman of Delhi based MRI centres, Mr Rajesh Gulla, for providing the costly facility to poor people free of cost. The first modern MRI scan centre in Delhi was set up by Mr Gulla's father, the late Mr V.K. Gulla. The second MRI centre was opened in 1998 in Green Park in South Delhi. After his father's demise in 1998, Mr Gulla continued with philanthropic service.