M A I N N E W S
Pervez to end infiltration: US official
T.V. Parasuram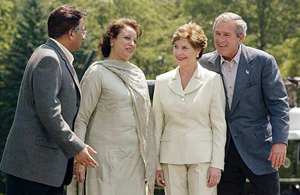 US President George W. Bush and his wife Laura Bush (second from right) share a light moment with Pakistan President Pervez Musharraf and his wife Sehba at the end of a joint Press conference at Camp David in Maryland on Tuesday. — Reuters photo
Washington, June 25
Pakistan President Pervez Musharraf has assured US President George W. Bush that he will make a 100 per cent effort to end cross-border "incidents" against India.
"Musharraf has committed to a 100 per cent effort at trying to end cross-border incidents", a senior Bush administration official said, briefing reporters on the talks the two leaders held at Camp David yesterday.
According to the official, General Musharraf said he had moved against cross-border infiltration and that he had made sure there were no terrorist camps inside Pakistan-occupied Kashmir.
Significantly, neither Mr Bush nor the official used the words "cross-border terrorism" and instead used "transborder infiltration" and the official added that to ask for cross-border terrorism to end completely before there can be dialogue between India and Pakistan would be to give rejectionists a veto over any movement towards peace.
When asked specifically whether Mr Bush was willing to mediate on the Kashmir issue, the official said: "We are not getting into that because nobody has asked us yet. When and if the two sides think we have a role to play, we will play that role that the two sides agree on". The official said the US $ 3 billion aid package to Pakistan was conditioned on "Pakistan working vigorously with the USA in the war against terrorism, working vigorously to ensure that there is no onward proliferation and moving smartly towards democracy."
The USA has said the $ 3 billion aid that Mr Bush has pledged to Pakistan does not include any provision to supply new F-16 fighter jets to Islamabad although it could consider "upgrading" the ones it has.
Senior administration official added that the USA was "perfectly willing to consider upgrading the F-16s" Pakistan now has: "Pakistan has many, many defence needs that need meeting. We're going to be working with them... I think they are going to come up with some requests, for example, upgrades and repairs to their current fleet of F-16s. We will look at that and we will talk to them about it."
The talks on that, he said, had not really started yet, "so we haven't fleshed things out in any detail. But there is an agreement on our side that is something that we would be willing to consider if they pushed us on it."
Asked how many F-16s Pakistan now had, the official said that there could be 32 now but he was not sure. — PTI