AGRICULTURE
EDUCATION
HEALTH
SCIENCE
CAREER GUIDE
SPORTS
HER WORLD
TRIBUNE CLASSIFIEDS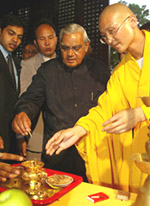 PM visits Buddhist heartland
Beijing, June 25
After two days of intense discussions with the Chinese leadership here, Prime Minister Atal Bihari Vajpayee today visited Luoyang, the ancient capital of the Middle Kingdom.
Prime Minister Atal Bihari Vajpayee visits the White House temple in Luoyang, Henan, China, on Wednesday.
— Reuters photo


India, China to boost trade
Beijing, June 25
Buoyed by Prime Minister Atal Bihari Vajpayee's successful visit, India and China today decided to further step up bilateral trade and increase cooperation to safeguard the interests of developing nations at the World Trade Organisation.

ON RECORD

PM's keynote address

Documents signed

Declaration on principles
In Science Tribune today
HOROSCOPE
THE TRIBUNE MAGAZINES
On alternate Mondays

On Sundays
On Saturdays
News Analysis
Forging a qualitatively new relationship
Mr Vajpayee's visit to China has, it would seem, accomplished more than was the national expectation, judging by the awkwardly titled joint declaration signed by the two Prime Ministers last Tuesday on the conclusion of the political component of the visit.
Editorial: Towards mature relations

World page: Accords win-win situation for India, China: Sinha
Meeting on N-threat to Parliament
Uranium seizure in Bangladesh
New Delhi, June 25
The recovery of raw uranium from a terrorist linked to the Al-Qaida in Bangladesh recently has pressed the panic button worldwide by raising the ultimate horror spectre: terrorists going nuclear.

2 ex-Haryana ministers held
State IAS officer picked up from Delhi
Chandigarh, June 25
Within days of Mr M.S. Malik, DGP, taking over additional charge as the Director, Haryana State Vigilance Bureau (SVB), the bureau has started cracking the whip.


File photos of Rao Narbir Singh (left) and Vinod Marya
Punjabi 2nd official language in Delhi
New Delhi, June 25
The President has given his assent to The Delhi Official Languages Bill, 2000, making Urdu and Punjabi the second official languages in the Capital, it was announced today.


Vigilance Dept should be with CS
Punjab IAS Officers Association shoots off letter to CM
Chandigarh, June 25
A controversy has broken out in top echelons of the Punjab civil administration with regard to the administrative control of the Vigilance Department, the most powerful organisation of the state apparatus. In a strongly worded letter, the Punjab IAS Officers Association, has stated that "the need of the hour is that the Department of Vigilance should be with the Chief Secretary".
India: Tibet Autonomous Region part of China
June 25, 2003
India, China sign accord
June 24, 2003
PM's China visit to improve ties
June 23, 2003
Muslim board to seek Kalyan's examination
June 22, 2003
Muslim board receives Kanchi seer's proposal
June 21, 2003
BJP for LS poll on schedule
June 20, 2003
India blocks Pakistan's entry into ARF
June 19, 2003
Advani debunks Pak claim on terrorism
June 18, 2003
Musharraf backtracks on Kargil, talks peace
June 17, 2003

PM for consensus on sending troops to Iraq
June 16, 2003