AGRICULTURE
EDUCATION
HEALTH
SCIENCE
CAREER GUIDE
SPORTS
HER WORLD
TRIBUNE CLASSIFIEDS
Sikkim issue can be settled step by step, says China
Shanghai, June 26
A day after External Affairs Minister Yashwant Sinha stated that China had accepted India's sovereignty over Sikkim by opening Nathu La Pass for border trade, Beijing today once again asserted it was an issue left over by history that could not be settled "overnight".


Shourie for better Sino-Indian cooperation

Nation page: China turns neutral towards India, Pak
India rejects Pak move on Kashmir
New Delhi, June 26
India today rejected Pakistan President Pervez Musharraf's suggestion for a US-sponsored roadmap on the lines of West Asia to resolve the Kashmir issue, saying there was no place for third-party mediation.


Nation page: Advani slams USA for aiding Pak

World page: End to infiltration can't be guaranteed, says Pervez

Editorial: Trek to Camp David
In Career Guide today
HOROSCOPE
THE TRIBUNE MAGAZINES
On alternate Mondays

On Sundays
On Saturdays
IN PASSING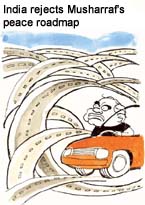 by Sandeep Joshi
---
J&K page
End religious fanaticism: Kalam
Pays obeisance at Vaishno Devi shrine
Jammu, June 26
The President, Dr A.P.J. Abdul Kalam, today called for collective efforts to remove religious fanaticism and discrimination which lead to terrorism. Dr Kalam was addressing police personnel at Udhampur after presenting colours to the J&K police. He also spoke at a special convocation of Jammu University here.

The President, Dr A.P.J. Abdul Kalam, presents the Police Colour at the Police Training Academy investiture ceremony in Udhampur on Thursday.
— Photo Sarabjeet Singh
---

HIMACHAL BUDGET
Fresh taxes to net Rs 50 cr
Shimla, June 26
Fresh taxes to mop up additional resources to the tune of Rs 50 crore have been proposed in the Himachal Pradesh Budget for the year 2003-04, presented by Chief Minister, Virbhadra Singh in the Vidhan Sabha today.


Budget anti-people: BJP
Panchayat poll may be put off
Bathinda, June 26
The Punjab Government may postpone the panchayat elections — slated to be held on June 29 — by a week or so following the detection of a number of flaws in the election process.


Punjab page: Border with Haryana, Rajasthan sealed

Suresh Oberoi booked in assault case


Ludhiana boy tops AIIMS test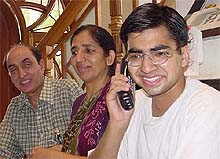 Ludhiana, June 26
Brijesh Takkar never imagined that he would top in almost every medical entrance examination he would appear in. This Ludhiana lad has done the city proud by topping in the entrance examination to the AIIMS, BHU, CMC, Ludhiana, CBSE, PMT, etc.

Brijesh Takkar (extreme right) attends to telephone calls as his parents look on. — Tribune photo Pradeep Tewari

Pervez to end infiltration: US official
June 26, 2003
India: Tibet Autonomous Region part of China
June 25, 2003
India, China sign accord
June 24, 2003
PM's China visit to improve ties
June 23, 2003
Muslim board to seek Kalyan's examination
June 22, 2003
Muslim board receives Kanchi seer's proposal
June 21, 2003
BJP for LS poll on schedule
June 20, 2003
India blocks Pakistan's entry into ARF
June 19, 2003
Advani debunks Pak claim on terrorism
June 18, 2003
Musharraf backtracks on Kargil, talks peace
June 17, 2003