AGRICULTURE
EDUCATION
HEALTH
SCIENCE
CAREER GUIDE
SPORTS
HER WORLD
TRIBUNE CLASSIFIEDS
In Sports Tribune today
PM returns from China

India, China plan first-ever joint naval exercises

Editorial: It's bilateral, General

Nation page: Border talks with China soon

Business page: India Inc. set to do business with China

India, China to coordinate on WTO issues
Pervez's 4-stage mantra on Kashmir
Washington, June 27
After suggesting a West Asia-style peace roadmap on Kashmir, Pakistan President Pervez Musharraf has outlined a four-stage approach to resolve the issue, saying any search for an immediate solution will be rejected by extremists in India and Pakistan.

In video (28k, 56k)

Pak Govt, Oppn set for showdown
Islamabad, June 27
Pakistan's agitating opposition parties and the government are set for another round of confrontation in Parliament tomorrow with the parties deciding to take out a protest march to coincide with the vote on no-confidence motion moved by them against the Speaker for declaring President Pervez Musharraf's constitutional amendments as legal.


HOROSCOPE
THE TRIBUNE MAGAZINES
On alternate Mondays

On Sundays
On Saturdays
IN PASSING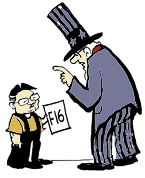 Why can't you write alphabets beyond 'F' and count beyond 16?

by Sandeep Joshi
Centre to repeal IMDT Act
New Delhi, June 27
The Centre has decided to repeal the Immigration and Migration (determination by Tribunals) Act (IMDT) in the upcoming Parliament session, according to highly placed official sources.
Warrants to search Badal's properties
SAS Nagar, June 27
A Kharar court today allowed the Punjab Vigilance Bureau to conduct searches of 16 properties owned by former Chief Minister Parkash Singh Badal and his family in India.


Search will help nail lies: Badal

Punjab page: Tohra loyalists come to Badal's aid

Panchayat poll on schedule
Chandigarh, June 27
The Punjab State Election Commissioner, Mr C.L. Bains, today said the panchayat poll would be held as scheduled on June 29. Commenting on the news reports appearing in the Press today to the effect that the poll might be postponed, Mr Bains said the process had already begun and would be completed as per the schedule.
Poll panel's order to book candidate

Punjab page: Badal kin decides to support Cong man

Editorial page: What makes panchayat poll so fierce

Sealed-lip protest by MLAs
Shimla, June 27
The 18 suspended legislators lodged their protest against the dictatorial style of functioning of the ruling Congress party in a novel way by taking out a procession with their lips sealed with black ribbon.


Ballot replaces bullet
Hard campaigning by Manochahal's family
Manochahal (Amritsar), June 27
Change no more flows from the barrel of a gun in Tarn Taran — once known as 'mini Khalistan'. The ballot has replaced bullet.

Dalbir Kaur, widow of Bhindranwale Tiger Force chief Gurbachan Singh Manochahal, and other family members canvass for Master Tarlochan Singh Manochahal, who is contesting the panchayat election from Manochahal village, on Friday.
— Tribune photo Rajiv Sharma

PM calls for India-China 'alliance' in IT
June 27, 2003
Pervez to end infiltration: US official
June 26, 2003
India: Tibet Autonomous Region part of China
June 25, 2003
India, China sign accord
June 24, 2003
PM's China visit to improve ties
June 23, 2003
Muslim board to seek Kalyan's examination
June 22, 2003
Muslim board receives Kanchi seer's proposal
June 21, 2003
BJP for LS poll on schedule
June 20, 2003
India blocks Pakistan's entry into ARF
June 19, 2003
Advani debunks Pak claim on terrorism
June 18, 2003