AGRICULTURE
EDUCATION
HEALTH
SCIENCE
CAREER GUIDE
SPORTS
HER WORLD
TRIBUNE CLASSIFIEDS
HOROSCOPE
J&k page: One killed in Pak firing
Army personnel patrol the Army camp at Sanjawan near Jammu on Saturday after a suicide attack by militants killed 12 jawans. — PTI photo
In video (28k, 56k)
USA rejects Pak offer on Kashmir
New Delhi, June 28
The USA today rejected Pakistan President Pervez Musharraf's call to the USA to mediate on the Kashmir issue as part of his roadmap for the normalisation of Indo-Pak ties, asserting there will be no third party at the negotiating table.
Fresh tariff concessions to Beijing
New Delhi, June 28
As a follow-up to the recent China visit of Prime Minister Atal Bihari Vajpayee to step up economic cooperation, the government today decided to offer fresh tariff concessions to Beijing.


Nation page: PM briefs CCS on China visit
| | |
| --- | --- |
| | |
In Her World Today
THE TRIBUNE MAGAZINES
On alternate Mondays

On Sundays
On Saturdays
IN PASSING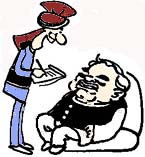 Shanghai noodles for breakfast, Manchurian veg for lunch and chopsuey chowmein for dinner.

by Sandeep Joshi
---
Vigilance men return empty-handed
Raid on Badal's house at Chandigarh
Chandigarh, June 28
Armed with court orders and escorted by a strong posse of Chandigarh police, the search operation launched by the Vigilance Bureau at the private house of the former Punjab Chief Minister, Mr Parkash Singh Badal, ended as no "incriminating" documents were found during the seven-hour search.


Mr B.K. Uppal, DIG, Vigilance Bureau, who led the search operation at the former Chief Minister, Mr Parkash Singh Badal's residence in Sector 9, Chandigarh, comes out of the house on Saturday.
— Tribune photo Parvesh Chauhan
Punjab page: SAD will fight its own battle: Badal

Most properties in VB list not mine: Badal

Recall search warrants, Badal requests court

SAD, BJP workers in Badal

SAD threatens 'chakka jam'

CM helping Badal destroy evidence: Bhaura

Hanspal's statement 'unfortunate'
---

Wimpy alleges abduction of employees
Chandigarh, June 28
Wimpy International has sought registration of cases of kidnapping and abduction against Punjab Vigilance Bureau officials maintaining that the bureau had exceeded its jurisdiction in taking five of its employees in custody from their Delhi homes.

Borrower India now creditor to IMF
Mumbai, June 28
Once a chronic borrower, now a creditor that is the journey India has made in the last one decade to become an international lender for financially crisis-ridden underdeveloped nations.



Test case on Gujarat riots fails
New Delhi, June 28
The 'Moditva politics' in Gujarat has completed its full circle. It began after the Godhra carnage and the acquittal of all 21 accused in the Best Bakery case shattered the hopes that justice would be done. Reacting to the court verdict, political parties and human rights organisations blamed the state government and the prosecuting agency for the 'shoddy' investigations.
Vajpayee rejects US roadmap on Kashmir
June 28, 2003
PM calls for India-China 'alliance' in IT
June 27, 2003
Pervez to end infiltration: US official
June 26, 2003
India: Tibet Autonomous Region part of China
June 25, 2003
India, China sign accord
June 24, 2003
PM's China visit to improve ties
June 23, 2003
Muslim board to seek Kalyan's examination
June 22, 2003
Muslim board receives Kanchi seer's proposal
June 21, 2003
BJP for LS poll on schedule
June 20, 2003
India blocks Pakistan's entry into ARF
June 19, 2003