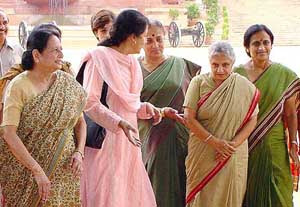 All-India Mahila Congress President Rita Bahuguna Joashi, who led a women's delegation of her party, including Sheila Dikshit, Margaret Alva, Ambica Soni, Mohsina Kidwai, coming out from Rashtrapati Bhavan after meeting Dr A.P.J. Abdul Kalam on the issue of 33 per cent reservation for women in Parliament on Tuesday.
— Tribune photo Mukesh Aggarwal
Steps to keep watch on visitors from Pakistan
New Delhi, July 22
The Centre said today that steps had been taken to ensure that unscrupulous elements from Pakistan did not disappear after entering India using the Delhi-Lahore bus service, resumed on July 11.
ILLEGAL TREE FELLING
SC notices to acquitted HP officials
New Delhi, July 22
The Supreme Court has issued notices to eight officials of the forest and revenue departments of Himachal Pradesh, a forest contractor and at least six other persons, who were acquitted by the High Court in two cases.
Mulayam accuses Centre of misusing CBI
July 22, 2003
Priyanka, Rahul to campaign
July 21, 2003
Cong hits back at BJP on Naqvi's remarks
July 20, 2003
Nitish unveils VRS for gangmen
July 19, 2003
Pressure mounts on IAF chief over MiG crash
July 18, 2003
Pak wants Bangladeshi as OIC
Secy-Gen
July 17, 2003
Mobile telephony for J & K soon
July 16, 2003
Correspondence on SYL not to be on record: SC
July 15, 2003
Changes in SPG Act likely to cover Kalam
July 14, 2003
Vajpayee warns of water emergency
July 13, 2003
Private sector opposes Cong suggestion on quota
July 12, 2003