Indo-US defence meeting on Aug 6
New Delhi, July 28
The crucial and strategically important meeting of the Indo-US Defence Policy Group, the highest-level interaction between the defence officials of the two countries, is likely to be held in Washington on August 6 and 7.
UK freezes Quattrocchi's bank accounts


New Delhi, July 28
Acceding to India's request, the UK has frozen two bank accounts, containing £ 3 million, of Ottavio Quattrocchi, Italian businessman and prime accused in the Rs 64 crore Bofors payoff case.
Liberhan panel calls Kalyan
Rejects plea to summon PM, Advani
New Delhi, July 28
The Liberhan Commission probing the demolition of the Babri masjid, today issued orders for summoning former U P Chief Minister Kalyan Singh to depose before it as a witness but rejected a plea for summoning Prime Minister Atal Bihari Vajpayee and re-summoning of Deputy Prime Minister L. K. Advani.
Apang stakes claim to form govt
Itanagar, July 28
Mr Gegong Apang, leader of the newly formed United Democratic Front, today met Arunachal Pradesh Governor V C Pande at the Raj Bhavan along with 41 legislators to stake claim to form the government.
In Education Tribune today
HOROSCOPE
THE TRIBUNE MAGAZINES
On alternate Mondays

On Sundays
On Saturdays
IN PASSING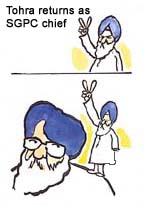 by Sandeep Joshi
Cong leaders to meet PM over Arunachal

Nation page: Turmoil in RS over Arunachal crisis
Maya wants removal of Jagmohan


Lucknow, July 28
Taking up cudgels against Union Culture and Tourism Minister Jagmohan on the Taj Heritage Corridor issue, Uttar Pradesh Chief Minister Mayawati today demanded the dismissal of the minister as "he was trying to drive a wedge between the state and the union governments".
India cool to Pak demand for Foreign Secretary-level talks
New Delhi, July 28
India is cool to Pakistan's demand for holding Foreign Secretary-level bilateral talks and is in favour of a "step-by-step" approach to improving relations with Islamabad.
World page: Talks should focus on entire Kashmir, says Hurriyat chief
2 killed, 45 hurt as truck collides with train
Gorakhpur, July 28
At least two persons were killed and 45 injured when a truck collided with 5087 Amarnath Express between Gorakhpur and Domingarh railway station today.


Romana removed in violation of Takht edict
Amritsar, July 28
The Gurdwara Management Committee of Takht Patna Sahib has removed Mr Mohinder Singh Romana, president of the committee. Earlier, Sikh clergy of Takht Patna Sahib had declared Mr Romana 'tankhaiya' (guilty of religious misconduct) for using derogatory language against Takht jathedars and 'Dasam Granth'.
Mr Mohinder Singh Romana, who was removed as president of Patna Sahib Gurdwara Management Committee on Monday.
— Photo Rajiv Sharma
Interest rate on farm loans cut
July 28, 2003
Japan clears troops for Iraq
July 27, 2003
China refuses to recognise Arunachal
July 26, 2003
Nation on verge of disintegration, says Chandra Shekhar
July 25, 2003
SC favours law on common civil code
July 24, 2003
Brig, 7 jawans shot dead
July 23, 2003
Ayodhya rocks Lok Sabha
July 22, 2003
BJP to make Sonia's origin poll issue
July 21, 2003
BJP tries to please Sangh Parivar on Ayodhya
July 20, 2003
BJP targets Sonia's foreign origin
July 19, 2003