Decision not to affect ties: Myers
New Delhi, July 29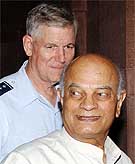 Asserting that he was not visiting New Delhi to press India to participate in the stabilisation force in Iraq, the US Joint Chiefs of Staff Committee Chairman General Richard B. Myers, today said that any decision in the negative would not in any way affect the Indo-US ties.

In video (28k, 56k)

National Security Adviser Brajesh Mishra with the US Joint Chief of Staff, Gen Richard Myers, before a meeting in New Delhi on Tuesday. — PTI photo


World page: USA names 30 nations ready to help in Iraq

President hospitalised
New Delhi, July 29
President A.P.J. Abdul Kalam was admitted to Research and Referral Army Hospital here this evening for treatment of infective diarrhoea. Mr Kalam was advised a day's rest in the hospital and his condition is normal. — PTI
Blackwill condemns terrorism against India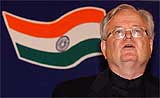 New Delhi, July 29
India today got "white hot" support in its war against terrorism from none other than the outgoing US Ambassador Robert D Blackwill who in his final speech covered India from alpha to omega and lavished praises on "Mother India".
Punjab allows doctors to keep entire fee of private practice
Chandigarh, July 29
The Punjab Government today relented and decided not to seek any share from the private practice of government doctors who continued their state-wide protests against withdrawal of Non Practising Allowance by holding dharnas and rallies.

Punjab page: Bureaucrats misled government, say PCMS doctors

In Health Tribune today
HOROSCOPE
THE TRIBUNE MAGAZINES
On alternate Mondays

On Sundays
On Saturdays
IN PASSING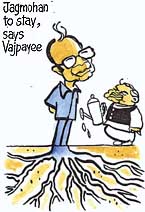 by Sandeep Joshi
Uproar in House over raids against Sukhbir
New Delhi, July 29


The Rajya Sabha witnessed uproarious scenes today as the BJP raised the issue of Vigilance raids on the official premises of Mr Sukhbir Singh Badal.
SAD leader and MP Sukhbir Singh Badal talks on the mobile at Parliament House in New Delhi on Tuesday. — PTI photo

Vigilance arrests SAD MLA


Chandigarh, July 29
The Punjab Vigilance Bureau has arrested Mr Jagdeep Singh Nakai, Shiromani Akali Dal MLA from the Joga constituency and a former Chairman of Milkfed, on charges of forgery and corruption.

Vigilance seals Nakai's house
10 hurt as ultras clash in jail
Jammu, July 29
A clash between local and Pakistani terrorists in Kot Bhalwal jail here on the stand for a peaceful solution to the Kashmir problem taken by the leader of the opposition in Pakistan, Mr Fazalur Rehman, has exposed the growing divide between the two sets of ultras over the question of shunning the path of violence and returning to the mainstream.



Comedian Johnny Walker dead
Mumbai, July 29
Legendary comedian Johnny Walker died this afternoon at his residence in north-west Mumbai after a prolonged illness, family members said.

OBITUARY: Gentleman comedian passes away
US Gen to plead for troops
July 29, 2003
Interest rate on farm loans cut
July 28, 2003
Japan clears troops for Iraq
July 27, 2003
China refuses to recognise Arunachal
July 26, 2003
Nation on verge of disintegration, says Chandra Shekhar
July 25, 2003
SC favours law on common civil code
July 24, 2003
Brig, 7 jawans shot dead
July 23, 2003
Ayodhya rocks Lok Sabha
July 22, 2003
BJP to make Sonia's origin poll issue
July 21, 2003
BJP tries to please Sangh Parivar on Ayodhya
July 20, 2003