Sunday, August 3, 2003
Books
Loss and betrayal from a male perspective
Sagari Chhabra
We Weren't Lovers Like That
by Navtej Sarna, Penguin India, Pages 224. Rs 250.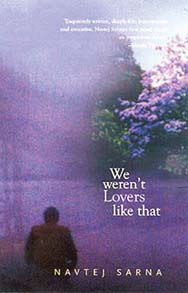 NAVTEJ Sarna's debut novel, We Weren't Lovers Like That, delves into the psyche of a man who has never had the courage of his convictions. Aftab Chandra turns 40 at the turn of the millennium and just then his inner world blows up in his face. His wife Mina leaves him for his close friend Rajiv and takes their only child, Ankur, with her. It is as his world falls apart that Aftab Chandra finally begins to introspect; about Rohini his first love whom he betrayed to marry Mina in a comfortable arranged marriage that had incompatibility written all over it. Aftab never followed his heart and betrayed himself. The story of this betrayal is obvious in the scabs and scars of his wounded psyche. A man who accepted a job for which he had no passion and a marriage in which there was no love. He unquestioningly accepted his father's argument that Rohini was 'not of the right caste'.
Through the protagonist, Navtej Sarna poignantly portrays the average Indian man's sense of memory, loss and betrayal. Aftab has spent a lifetime being comatose, till he gingerly renews his links with Rohini through a series of hesitant, but endearing emails. In an act of courage, he quits his job, morally outraged by his boss's machinations and travels homeward, inching his way towards his real self. Through evocative and poetic prose, the novel unfolds on a train journey that Aftab undertakes to Dehradun where he spent his childhood. In a series of non-linear flashbacks, Aftab searches deep into the inner recesses of his memory and the novel gently nudges the reader to read between the lines. The low end of Delhi's high life is evocatively portrayed with biting insight. There is a New Year eve party where Rajiv talks to Aftab with nonchalance, as if he has not taken his wife, but a newspaper from his room, without his permission! Mina and her friend Naini walk around blithely sipping Bloody Marys, sharing confidences, having both dumped their husbands. In fact Sarna's women are surprisingly ultra-modern and seem to discard their husbands like a pair of old socks.
The denouement comes at the Habitat Centre party, where Aftab's boss Basu and his mistress Neeta, describe his ultimate present – a potty putter! There are some sharp insights into the kind of materialistic society Delhi has become. "The new doctors, the representatives of corporate medicine, the champion of the theory that new hearts, new arteries, new kidneys should be given to those who can buy them like new cars or refrigerators or air conditioners. These were clever men, armed with a great skill for almost nothing, by a country that had idealistically hoped that one day they would turn around, and help solve her problems." That describes the context in which almost all of Sarna's characters are placed — Delhi's page three circuit. Chattering incessantly, obsessed with themselves, forever compromising, till something eventually blows up in their faces. Through the protagonist, Aftab Chandra, who is a loser, Navtej Sarna emerges a winner!