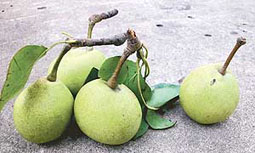 Pear fruit plucked along with the spur (left) and without it
The pear is not susceptible to any serious insect, pest or disease problem. Still it faces complaints of scanty fruit, no fruit at all or the trees going barren. There may be a problem of faulty picking of the fruit. The pear fruit is borne on a short, stout extension of the stem called a spur. The growth of the spur is very slow, a few millimetres in a year. In case of the trees that start bearing fruit after 5 to 6 years, these spurs are hardly an inch or so long. Their appearance is like that of stout thorns. Normally, I have noticed that the fruit is plucked along with a part of or the complete spur. Therein lies the problem. The damaged spur fails to bear fruit the next year and at times the gap is too long. It is, therefore, necessary to pick the fruit by giving it a gentle, upward twist. When using a tall bamboo stick with a blade, as is the normal practice with gardeners, be extra cautious. In fact, this practice is not recommended. Instead, use wooden steps to climb up the tree and pluck the fruit.
The only time pear saplings can be planted is in winter, when the plants become dormant.
This feature was published on July 6, 2003