Sony's new game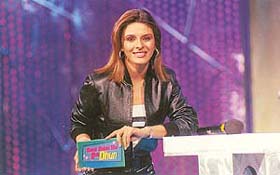 Raageshwari in Kya Kehti Hai Yeh Dhun: Game show fun
If Star Plus has its Masti with game shows can Sony Entertainment Television be far behind? The channel promises rollicking Monday evenings with Kuch Kehti Hai Yeh Dhun at 8.30 p.m.
Anchored by Raageshwari, the lively game show is fast paced, high energy with pulsating music, thrilling twists, exciting rounds that keep participants and viewers hooked.
The only jarring note in this fancy show is the rather overexcited anchor. That despite the fact that she has hosted music shows both on Channel V and MTV.
That apart, Kuch Kehti Hai Yeh Dhun is both peppy and lively. The contestants are tested for their knowledge of Hindi film and pop songs in the rounds based on musical questions. If they are around on their knowledge then there are lots of prizes in store. So there's a lot more in these tunes then just humming.
Carry on doctor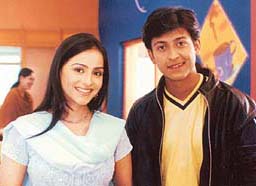 Arjun with co-star in Sanjeevani: Lucky break
After a disastrous start to his career in Tere Liye, the film in which he played the lead role, Arjun Punj is more than making amends playing Dr Amar in Sanjeevani.
After Tere Liye sank at the box office, Arjun did a few ads, appeared in a couple of music videos and tried his luck down south doing two Telugu films Joruga and Usharyga Nowey Kawali, both of which were average grossers. Though he made some good money he pined to come back to Bollywood.
Bollywood may now seem a far away dream but Arjun is maturing quickly with every episode of Sanjeevani and says he couldn't have asked for a luckier break.
Dr Aman, who was shaping up as Mr Perfect, is now turning evil and viewers are somewhat appalled at the change in his personality. "It's a very challenging role as I have to show two sides of a human — good and evil," says the actor who feels his character has provided a shot-in-the-arm to the serial.
Arjun says he is now focused on doing good work on television but would love to go back to the silver screen — the place he's always wanted to be in. He would want to work with all the big banners like his screen idols Salman, Aamir and Shahrukh Khan. No doubt a long way to go but this young man is confident of reaching there.
Cloning mystery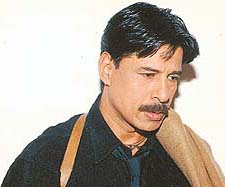 CID Officer: Scenes from the past
For Doordarshan, one not-so-good thriller deserves another. With most big banners curiously shying away from the national network, there is a severe drought of quality programming.
Take for example, Monday nights. Even as Suraag: The Clue ended its run, the mystery angle continues with CID Officer, Mondays at 9.30 p.m. Nothing wrong with that. But the trouble here is that the new offering is nothing but an extension of Surraag: The Clue as the subject, the cast, the makers and even the day are the same.
But all this perhaps doesn't count when you have limited resources. Still the makers claim that CID Officer is among the top five shows on Doordarshan. One wonders which ratings they have in mind to back their claim!
CID Officer from the stable of Shri Adhikari Brothers Television Network and directed by Gautam Adhikari is different from the previous version in one way — here lead star Sudesh Beri sports a moustache. Now that's mystery, if you didn't get the hint!
Ideas that clicked
For those who like success stories, BBC World's, Business Bizarre every Sunday at 11 am profiles some unusual Indian businesses. The series brings out intriguing facts about how these ideas made it big from scratch.
Some of the episodes already aired include the widely popular Amar Chitra Katha comics whose saga began in 1967 with sales of 60,000 copies. Today, they are published in English and several Indian languages, selling nearly 3.5 million copies. There are plans to make interactive CDs, read-along books, audio-cassettes and more.
Among the other businesses profiled are SEWA (Self-Employed Women's Association), Amul, the big white of the Indian Dairy Revolution as also the Himalaya Drug Company, which has managed to combine centuries-old ayurveda with the rigour of modern clinical research to form the world's largest database of 500 medicinal herbs.
There's Nalli, a market leader in silk sarees, Haldiram's, a family-run sweet and snacks business that's a household name. Sulabh International, the public sanitation system employing over 15,000 people and Lijjat Papad that's grown from an investment of Rs 80 to a Rs 300-crore women's enterprise. A riveting programme from start to finish.
News-worthy
News addicts will now have access to lot more than news as CNN launches its new prime-time evening news programme, Asia Now, from August 11, 2003.
Building on its morning programme format, there will be two live one-hour editions of Asia Now at 4.30 pm and 7.30 pm throughout the week. There'd be reports and update on the day's main news and business stories from across the region and around the world.
Co-anchored by Andrew Stevens and Veronica Pedrosa from Hong Kong, Asia Now brings viewers a mix of news, information and updates together with background and analysis of major developments impacting the global marketplace.
Its diverse mix of content also includes regular segments, including Tech Watch, covering the latest developments in technology, and the Challenging CEOs series of interviews with top business leaders.
"Asia Now would keep viewers right up to date with the very latest news and provide information relevant to their daily lives," says Ian Macintosh, Senior Vice-President of CNN International Asia Pacific. Which is all good news for news watchers.
— Mukesh Khosla