Beauty & the booty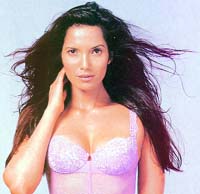 Padma Lakshmi
Three supermodels (Sapre, Lakshmi and Kaif) live and work together. A mega fashion show, set against the backdrop of the Gateway of India, goes haywire, when Sapre trips on the ramp. She, along with her two friends, Lakshmi and Kaif, picks up a fight with the model, who is supposed to have caused the goof-up.
In the scuffle, the model's hair goes lose and hundreds of hidden diamonds, which were due to be smuggled out of the country, scatter all over. These are looted by all, including the paparazzi and the celebrities present.
Three gangsters, played by Bachchan, Shroff and Grover, were the ones who had hatched this plan to smuggle the diamonds out from India to Dubai. They hold the three model friends responsible for the massive loss.
What follows is a game of hide and seek. Will the three gangsters overpower the three models or will the models use their seductive charms to oust them in this hunt for the priceless booty?
The baddies
Amitabh Bachchan plays the 59-year-old Bade Mia, the most wanted criminal in India. He wishes to rule the world by remote.
Gulshan Grover is Medium Mia, aka Saleem Ahmad. He also has a whacky name, Cut Piece Saleem Suiting Shirting, for his flair for cutting a man into pieces without a tear in his shirt.
Jackie Shroff is Chhote Mia. Also called Abdul Wahab Barkatali Al Sabunchi , he has one wife, six children and 11 mistresses. In all his crime operations he demands a hefty 50 per cent cut, which also has given him the nickname 50/50.
Jaaved Jaaferi, plays Boom Shankar, who came to Mumbai at the age of thirteen. He shares intimacy with all maids, right from Malabar Hill to Pali Hill.
Model act
Model-turned-actress Madhu Sapre plays the hot-tempered Anu Gaekwad from Santa Cruz, a Mumbai suburb. She begins her career as a long-distance runner and a swimmer, is crowned Miss India and then Miss Universe Runner-Up. Interestingly, she speaks English with a Marathi accent and Marathi with an Italian accent.
International model Padma Lakshmi (of Salman Rushdie fame) plays Sheila Bardez. She is a half-Goan, half-Keralite, who travels between New York and Mumbai and speaks nine languages.
Rina is the 20-year-old 'sweet baby' played by Katrina Kaif. Her pet names are also Popdi and Chinchpokli. She is half-British and half-Kashmiri and has no fixed address.
Seema Biswas plays Bharti, the maid of the models. Though she seemingly keeps a low profile and constantly complains about her meagre salary, she is hand in glove with the crime mechanics.
Alice Rodriguez de Fonseca, a 40-plus Anglo-Indian from Bandra. Married and divorced early in life, she has been working for the dons since 20 years. Though she can run the crime empire single-handedly, she prefers taking instructions from the powers that be.
Hollywood sex-goddess, Bo Derek plays herself. Known over the world as a perfect 10 on the beauty scale, Bo (she is remembered for her drenched appearance in the movie 10) is the subject of Bachchan's fantasy. She recreates the famous scene from 10, for Bade Mia, but this time in a gold saree.
The Boom look
Designer Anna Singh has given a distinctive look to each of the role players. Amitabh Bachchan, who has sported all white throughout the film, has worn green lenses and has tanned skin.
Jackie Shroff offsets his black attires with trendy glares, while Gulshan Grover goes wild with all-colour outfits.
As for the models on the diamond hunt, it's one booming skin parade. LMN