HOROSCOPE
Govt not to part with CVC report
New Delhi, August 9
Defence Minister George Fernandes today ruled out placing the Central Vigilance Committee report on defence deals to the Public Accounts Committee on the grounds that it was a secret document, even as he charged the Opposition with politicising the issue.


Nation page: HC declines to hear plea for CVC probe

Sonia blames Centre for Arunachal episode


New Delhi, August 9
Accusing the BJP of raking up the Ayodhya issue near the elections to cover up its 'failures', Congress President Sonia Gandhi today alleged that the NDA government had hatched a conspiracy to destabilise her party's government in Arunachal Pradesh.
16 cloudburst victims still untraced
Kangni Nallah (Manali), August 9
Even though the Border Roads Organisation and the district administration continued with relief and rescue operations, only one body of a 10-year-old girl could be recovered today, as 16 missing persons still remained untraced.
THE TRIBUNE MAGAZINES
On alternate Mondays

On Sundays
On Saturdays
IN PASSING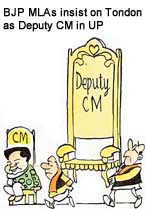 by Sandeep Joshi
In video (28k, 56k)

Labourers rummage through the debris looking for their belongings in Kangni Nallah, near Manali, on Saturday.
— photo M.C. Thakur
9-year-old girl left all alone
Kangni (Manali), August 9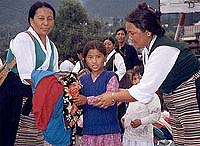 Unmindful of the catastrophe tat struck the labourers' camp here, killing her parents and three siblings, nine-year-old Thulima, is busy playing with other children, not knowing that she has been left all alone in this world, far away from her home in Nepal.
Nine-year-old Thulima is given clothes by Tibetan women at Kangni, near Manali, on Saturday. — Photo M.C. Thakur

Indian delegation enters Pak with message of peace
Wagah, August 9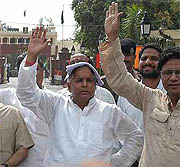 A 51-member delegation, including MPs of all political parties and eminent mediapersons, today crossed over to Pakistan with a message of peace.

In video (28k, 56k)

RJD supremo Laloo Prasad Yadav and other parliamentarians wave before crossing over to Pakistan at the Wagah checkpost on Saturday. — Photo Sawinder Singh


Nation page: Sattu, paan, pickle part of Laloo's peace recipe

Lyngdoh sceptical of simultaneous elections
Hyderabad, August 9


Continuing his opposition to the idea of simultaneous Lok Sabha and Assembly poll, Chief Election Commissioner J.M. Lyngdoh today said such a course would lead to 'substandard elections' and inadequate police deployment, giving scope for "cheating and unfair polling."


NRI dream turns deadly for Narinder
Fatehabad, August 9
A village girl's wish to marry an NRI and settle in England led to a murderous attack on her by her husband's maternal uncle. Ms Narinder Kaur is now struggling for life at the Postgraduate Institute of Medical Sciences, Rohtak.
In Her World today
60 washed away in Kulu flash floods
August 9, 2003
PAC report issue rocks Lok Sabha
August 8, 2003
Govt staff can't go on strike, rules SC
August 7, 2003
5 die in copter crash near Srinagar
August 6, 2003
PM to quit rather than act under pressure
August 5, 2003
PM: no change in stand on Ayodhya
August 4, 2003
Advani: govt for simultaneous LS, Assembly poll
August 3, 2003
PM, Advani vow to build Ram temple
August 2, 2003
Babri tapes rock Parliament
August 1, 2003
No speech of Advani in Babri tapes
July 31, 2003
Mayawati eats her words
July 30, 2003