23 pilgrims drowned as boat capsizes
Kishanganj, August 11
At least 23 pilgrims, mostly women, were drowned and 17 went missing when an over-crowded boat capsized midstream in the swollen Kankai river in Bihar's Kishanganj district today, the police said.
BJP all set to ditch NDA, says Deve Gowda


Country in political mess
New Delhi, August 11
Former Prime Minister H.D. Deve Gowda is categoric that the country is in a political and economic mess and the BJP is geared up to ditch the NDA as the ensuing electoral battles will be fought on the Ayodhya issue and the Common Civil Code.
Edit page

Interview: BJP, Cong 'responsible for political mess'

Cabinet clears statehood for Delhi
New Delhi, August 11
The BJP-led National Democratic Alliance government at the Centre today threw another election bait at the people of the Capital by clearing the proposal for granting full statehood for Delhi.


Cabinet okays Bill on cow slaughter ban

Implement recommendations on fundamental duties, says SC
HOROSCOPE
In Education Tribune today
THE TRIBUNE MAGAZINES
On alternate Mondays

On Sundays
On Saturdays
IN PASSING


No, no, there is no dissidence in Punjab Congress!

by Sandeep Joshi
Pak asks India to make sacrifice
Islamabad, August 11
Urging India to make a sacrifice in the spirit of give and take to settle the Kashmir issue, Pakistan Prime Minister Mir Zafarullah Khan Jamali today told a visiting Indian delegation of parliamentarians and journalists that his country wanted peace in the region.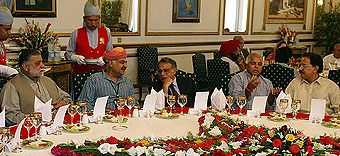 Zafarullah Khan Jamali (L), Prime Minister of Pakistan, hosts a lunch in honour of the visiting Indian delegation at the Prime Minister's House in Islamabad on Monday. —Reuters
Man kills wife, 3 daughters; later commits suicide
Patiala, August 11
A Shimla resident who had got his wife to the city to enable her to observe the "Raksha Bandhan" festival, today pushed her as well as his three young daughters into the Bhakra Canal.


Bahang (Manali), August 11
Spending sleepless nights and sitting on the check-dam with their little ones in their arms has become a routine for labourers and their families living in tents and hutments along the Beas here which can anytime come under the swathe of the Podu nullah.


Labourers living in the huts below the Podu Nullah at Bahang, 4 km from Manali, where two persons were killed on July 24. — Photo M. C. Thakur
Himachal page
Disasters jolt authorities into action
Cloudburst: two more bodies recovered
Vajpayee throws quota ball in Congress court
August 11, 2003
Govt can't be sacrificed for Ram temple: Advani
August 10, 2003
60 washed away in Kulu flash floods
August 9, 2003
PAC report issue rocks Lok Sabha
August 8, 2003
Govt staff can't go on strike, rules SC
August 7, 2003
5 die in copter crash near Srinagar
August 6, 2003
PM to quit rather than act under pressure
August 5, 2003
PM: no change in stand on Ayodhya
August 4, 2003
Advani: govt for simultaneous LS, Assembly poll
August 3, 2003
PM, Advani vow to build Ram temple
August 2, 2003
Babri tapes rock Parliament
August 1, 2003