| | |
| --- | --- |
| | Pakistan President Pervez Musharraf meets with Indian legislators at President House in Islamabad on Tuesday. — Reuters photo |
Stand-off over CVC report likely to continue
New Delhi, August 12
The stand-off between the ruling NDA and the Opposition over the CVC report on arms deals is likely to continue in Parliament tomorrow, with the government today turning down the demand for submitting it to the Public Accounts Committee, saying that there is no such report on Kargil purchases.
Rescuers spot wreckage, find no survivors
Mumbai, August 12
Rescuers spotted the wreckage of the Russian-built helicopter that crashed off the Mumbai coast, but hopes dimmed about finding alive the 24 missing ONGC employees today, a day after the chopper carrying them went down into the Arabian Sea.
Nation page: Naik orders probe into ONGC chopper crash
HOROSCOPE
IN FOCUS
In our series, State of Universities, Assistant Editor Roopinder Singh examines the functioning of Punjabi University, Patiala, on Edit page.

THE TRIBUNE MAGAZINES
On alternate Mondays

On Sundays
On Saturdays
IN PASSING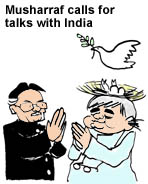 by Sandeep Joshi
US clears sale of Israeli Phalcon radars
to India
Washington, August 12
The USA has confirmed that it has given Israel the green signal to sell India the Phalcon airborne warning and control system worth nearly $1 billion.
Navy acquires stealth frigate
Orion patrol aircraft on cards, says naval chief
On Board INS Talwar, August 12
The surveillance capability of the Indian Navy is severely restricted on account of inadequate aircraft. It urgently requires additional maritime patrol aircraft to meet its operational commitments.


The first Indian stealth warship "INS Talwar" is anchored off Mumbai port after its arrival on Tuesday. — PTI photo

Doctors suspend strike
Chandigarh, August 12
The Punjab Civil Medical Services Association today decided to suspend its proposed strike from August 13 following an assurance from the government.

Panel suggests death sentence for spurious drugs
New Delhi, August 12
Death penalty for those who cause "grievous bodily harm or loss of life" and that offences related to spurious drugs should be made cognisable are recommendations made by the Mashelkar Committee which submitted its interim report here today.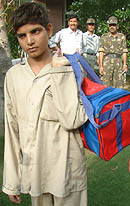 Pak boy returns home
Praises Indian hospitality
Kartarpur, August 12
The Delhi-Lahore bus had a special passenger today. Teenager Munir was on board, returning home to Pakistan after a stay of one month and 20 days in India.

In video (28k, 56k)


Editorial: The Noor effect

Pakistani boy Munir crosses over to his country from the Wagah checkpost in Amritsar on Tuesday. — Photo Rajiv Sharma

In Health Tribune today
27 feared dead in ONGC copter crash
August 12, 2003
Vajpayee throws quota ball in Congress court
August 11, 2003
Govt can't be sacrificed for Ram temple: Advani
August 10, 2003
60 washed away in Kulu flash floods
August 9, 2003
PAC report issue rocks Lok Sabha
August 8, 2003
Govt staff can't go on strike, rules SC
August 7, 2003
5 die in copter crash near Srinagar
August 6, 2003
PM to quit rather than act under pressure
August 5, 2003
PM: no change in stand on Ayodhya
August 4, 2003
Advani: govt for simultaneous LS, Assembly poll
August 3, 2003
PM, Advani vow to build Ram temple
August 2, 2003