Speaker to meet leaders today again on
PAC issue
New Delhi, August 13
Lok Sabha Speaker Manohar Joshi is likely to make yet another attempt in brokering peace between the Opposition and the government tomorrow at a meeting of leaders of all parties before the House begins on the PAC issue.


CVC issue rocks Houses again
Pawar, Mulayam oppose George's boycott
Indian MPs return from Pakistan
Claim Pak has softened stand on Kashmir
Wagah, August 13
Even as India today rejected Pakistan President Pervez Musharraf's proposal for a ceasefire, along the Line of Control, the Rashtriya Janta Dal President, Mr Laloo Prasad Yadav, Mr Ram Jethmalani, Chairman on Kashmir committee, Mr Saleem Sherwani, a former Foreign Minister and other members of Parliament, returned to India after attending a two-day South Asian Media Association Convention.
HOROSCOPE
THE TRIBUNE MAGAZINES
On alternate Mondays

On Sundays
On Saturdays
IN PASSING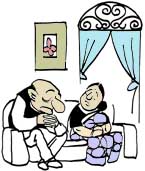 Instead of sitting idle, why don't you also go in peace mission to Pakistan?
by Sandeep Joshi
Man of Indian origin held for smuggling missile
Washington, August 13
In an international sting operation, the FBI has arrested three persons, including a British national of Indian origin with alleged links to the Mumbai underworld, for smuggling a Russian shoulder fire -missile into the USA possibly for sale to terrorists.
Six pilgrims die in road mishap near Balachaur
Hamiri Khera (Jalandhar), August 13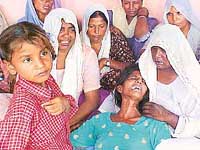 Six residents of this village were killed and 22 others injured in a road accident at Rail Majra village, near Balachaur, late last night.
An inconsolable Narinder Kaur, whose son was among six residents of Hamiri Khera village in Jalandhar district who were killed in a road accident near Balachaur on Tuesday night.
— Photo S.S. Chopra

Ex-police chief Danewalia dead


Chandigarh, August 13
Mr Bhagwan Singh Danewalia, a former Punjab police chief, died today following a heart attack at the Chandigarh Golf Club. He was 78. He is survived by his wife and two sons, both of whom are settled abroad.
Boy freed for ransom, kidnappers held
Malerkotla, August 13
Parteek Bhanot, a Class XI student of the local DAV School, who was kidnapped by two car-borne miscreants from the town on August 7, was released at Benra village, near Dhuri, this morning.


Waiting for deportation to Pak since '96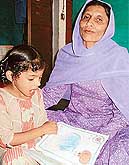 Jammu, August 13
She was imprisoned for one year in 1995 on the charge of entering Indian territory without valid documents in the Poonch district from Pakistan-occupied Kashmir.


Pakistani national Shehnaz Parveen with her daughter Mobin Kesar at her flat in Jammu, allotted to her by the state government. — Photo Sarabjeet Singh

In Science & Technology today
Musharraf proposes ceasefire along LoC
August 13, 2003
27 feared dead in ONGC copter crash
August 12, 2003
Vajpayee throws quota ball in Congress court
August 11, 2003
Govt can't be sacrificed for Ram temple: Advani
August 10, 2003
60 washed away in Kulu flash floods
August 9, 2003
PAC report issue rocks Lok Sabha
August 8, 2003
Govt staff can't go on strike, rules SC
August 7, 2003
5 die in copter crash near Srinagar
August 6, 2003
PM to quit rather than act under pressure
August 5, 2003
PM: no change in stand on Ayodhya
August 4, 2003