Let us make India safe, says Kalam
New Delhi, August 14
President A.P.J. Abdul Kalam today reminded citizens that future generations would remember them not for adding churches, mosques, temples and gurdwaras but for giving them "a prosperous and safe India resulting out of economic prosperity, coupled with our civilisational heritage". In his Address to the Nation on the eve of the 57th Independence Day, the President gave a detailed programme of action for transforming India into a developed nation.


PUNJAB: Profligacy despite financial crisis


HIMACHAL: Centre questions HP order on wasteland


NATIONAL CAPITAL REGION: Newsreader enacts suicide drama atop tower


CHANDIGARH: Protesting traders held


LUDHIANA: Dharna by Dalits forces police to arrest main accused


EDIT: Criminal raj

NATION: George boosts morale of troops

HOROSCOPE
THE TRIBUNE MAGAZINES
On alternate Mondays

On Sundays
On Saturdays
IN PASSING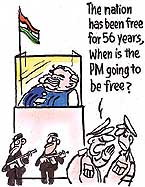 by Sandeep Joshi

No-trust move against Vajpayee government on Aug 18
New Delhi, August 14
The Opposition is bringing a no-confidence motion against the Vajpayee government in the Lok Sabha on August 18. The move, political sources here say, is likely to be defeated by voice vote.

Opposition boycotts House proceedings
New Delhi, August 14
Opposition parties led by the Congress boycotted the proceedings of the Rajya Sabha today in protest against the Chair's decision to disallow a discussion on the PAC issue.

Pak MPs arrive for candlelight vigil
Wagah (Amritsar), August 14
Amid shouting of "Hind-Pak dosti" slogans a 12-member delegation of parliamentarians from Pakistan today entered India from the Wagah joint checkpost, waving their national flag and a white flag. They will participate in the candlelight vigil on the eve of Independence Day at zero line for the first time.


A 12-member delegation of MPs from Pakistan on its arrival at the Wagah joint checkpost. The delegation has reached Amritsar to participate in a candlelight vigil on the border.
— Photo Rajiv Sharma


Punjab notification on Sikh judicial panel quashed
Chandigarh, August 14
The Congress government in Punjab today suffered a major political setback after the Punjab and Haryana High Court quashed a notification issued on July 5 last year whereby the previously constituted Sikh Gurdwara Judicial Commission was ordered to be restored. The text of the judgement was not available.
In Career Guide today
2 killed, 50 hurt in Kashmir blasts
August 14, 2003
Musharraf proposes ceasefire along LoC
August 13, 2003
27 feared dead in ONGC copter crash
August 12, 2003
Vajpayee throws quota ball in Congress court
August 11, 2003
Govt can't be sacrificed for Ram temple: Advani
August 10, 2003
60 washed away in Kulu flash floods
August 9, 2003
PAC report issue rocks Lok Sabha
August 8, 2003
Govt staff can't go on strike, rules SC
August 7, 2003
5 die in copter crash near Srinagar
August 6, 2003
PM to quit rather than act under pressure
August 5, 2003