Devotees bow to dispeller of darkness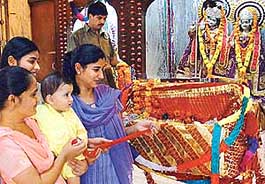 Chandigarh, August 19
For the residents, there was no confusion about the "exact date" of Janmashthmi celebrations. As the evening sun disappeared behind the buildings, they thronged the temples all over the city for sankirtan and bhajan sandhya.
Devotional Pull: A little one pulling the cradle of Lord Krishna on the occasion of Janmashtmi at Sanatan Dharam Mandir, Sector 46, in Chandigarh on Tuesday. — Tribune photo Manoj Mahajan

Be vigilant from within, Verma tells cops
Chandigarh, August 19
Identify black sheep in the police by strengthening the internal vigilance system, said the UT Administrator, Justice O.P. Verma (retd), at a meeting to review the law and order situation in the city, here today.
Manjeet Singh untraceable, says police
Kharar, August 19
A raid conducted by the in charge of the special task force, SP office, Mohali in connection with the illegal detention of Manjeet Singh at Chahar Majra village of Kharar tehsil, proved futile as the team failed to find him.
Architects complain of harassment
Zirakpur, August 19
Members of the Zirakpur Architects Association have alleged harassment at the hands of officials of the Zirakpur Nagar Panchayat for the last couple of months.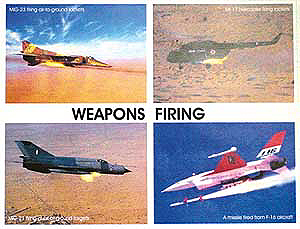 Poster exhibition on aviation
Chandigarh, August 19
To mark 100 years of aviation, a poster exhibition covering all facets of flying is being organised by the Chandigarh chapter of the Aeronautical Society of India in the city next month. This is for the first time that such an exhibition is being organised in the country.
One of the posters to be displayed at the forthcoming exhibition on aviation to be held in Chandigarh. — A Tribune photograph

Carcass at the back of market
Chandigarh, August 19
Due to the indifferent attitude of the Sanitation Wing of the Municipal Corporation of Chandigarh (MCC), the carcass of a cow has been lying at the back of the Sector 36-D market for the past two days.
Nothing Bhatti about emergency landing
Chandigarh, August 19
There is nothing funny about an aeroplane going in for an emergency landing. But humour maestro Jaspal Bhatti, on board the plane this evening, did not miss even this opportunity to make fellow passengers smile amidst tension.
Mohali MC issue notice to Bindrakhiya
SAS Nagar, August 19
The municipal council, here, has issued a notice to singer Surjit Bindrakhiya on charges of defacing public property in the township.