Wednesday, August 20, 2003, Chandigarh, India


N A T I O N
SC declines stay in Babri Masjid case
New Delhi, August 19
The Supreme Court today declined to stay the trial proceeding in the Babri Masjid demolition case in the Special Court at Rae Bareily when a writ petition challenging the "dropping" of the conspiracy charge against Deputy Prime Minister L.K. Advani.
Choose sentiments or 'raj dharma', Cong tells Vajpayee
New Delhi, August 19
The poet Prime Minister came under attack in the Lok Sabha today with a prominent Congress member asking Atal Bihari Vajpayee to choose between a "sentimental" life and "raj dharma".
Debate exposed Opposition, says BJP
New Delhi, August 19
The BJP said today that the no-confidence motion moved by the Congress against the government had not only exposed the disunity in the Opposition but also strengthened the ruling NDA.
Cong, SP differ on Women's Reservation Bill

Rajya Sabha passes Bodo Bill
Foreign visitors along with their Indian counterparts going inside the Parliament House to witness the proceedings of no-confidence motion, in New Delhi on Tuesday.
— PTI
Defence panel favours one rank, one pension
New Delhi, August 19
Strongly favouring grant of "One Rank One Pension" to the armed forces personnel, the Parliamentary Standing Committee on Defence has urged the Inter-Ministerial Committee, set up by the Ministry of Personnel, Public Grievances and Pension to examine the issue and complete its task speedily.


| | |
| --- | --- |
| | Devotees from the International Society For Krishna Consciousness decorate an idol of Lord Krishna, during the celebration of Janamashtmi, in Kolkata on Tuesday. — Reuters |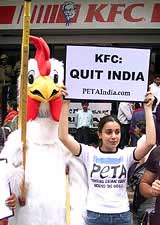 A PETA member protests in front of a Kentucky Fried Chicken restaurant in Bangalore on Tuesday.
— Reuters



Haryana moves SC over SYL canal plan
August 19, 2003
Officials' apathy helps NRI cheats
go scot-free
August 18, 2003
Cabinet expansion likely by August-end
August 17, 2003
Fasting Hazare makes an impact
August 16, 2003
George boosts morale of troops
August 15, 2003
Joint exercises with three foreign navies on anvil
August 14, 2003
No move to change poll schedule, says BJP
August 13, 2003
HC orders govt to test Pepsi products
August 12, 2003
Why did Pak official spill beans on Kashmir issue?
August 11, 2003
3 suspended for Parliament security lapse
August 10, 2003
Parliament adjourned over PAC issue
August 9, 2003