Tuesday, September 2, 2003, Chandigarh, India



B U S I N E S S
Trade deficit widens
New Delhi, September 1
A significant rise in imports of 22.73 per cent and fall in the rate of growth of export of 9.29 per cent have widened the trade deficit of the country during the period April to July 2003-04 as compared to the same period in the previous year.
No shortage of apple boxes, says minister
Shimla, September 1
Mr Ram Lal Thakur, Industries Minister, today said there was no shortage of apple packaging material and trucks and alleged that the BJP was making such false charges to gain political mileage.
Govt plans law on agri-marketing
New Delhi, September 1
The government is considering to bring in a new legislation on agri-marketing aimed at strengthening the legal framework of contract farming agreements.
Quark to set up IT park in Ropar
Ludhiana, September 1
Quark is all set to set up an information technology park in Ropar district. The company is planning major expansion in Punjab. It is likely to acquire about 5,000 acres in Ropar. Besides Quark, other IT companies will also set up their units in the park.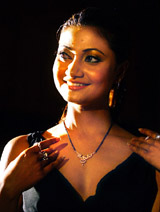 A model poses at a photo session of newly launched diamond jewellery in Kolkata on Monday. Retailers say the demand for diamond jewellery is spreading from the country's elite to the burgeoning middle class.
— Reuters