Saturday, August 30, 2003, Chandigarh, India



B U S I N E S S
Steel consumers to get relief,
says govt
Ludhiana, August 29
Steel consumers in the country, particularly the engineering industry, are likely to get some relief with the Union Steel Ministry deciding to recommend the withdrawal of public notification number 44 of the Director-General of Foreign Trade, which makes it mandatory that steel imported into the country fulfils the specifications laid down by the Bureau of Indian Standards.

Mukesh vows to make Reliance last centuries
New Delhi, August 29
Reliance Industries Chairman Mukesh Ambani has said he is committed to make the $ 16.8 billion conglomerate last centuries and institutionalise the achievements of his father, the late Dhirubhai Ambani.
Uco Bank issue to hit market on Sept 3
Chandigarh, August 29
Uco Bank's Initial Public Offering of 20 crore equity shares of Rs 10 each for cash at a premium of Rs 2 per share aggregating Rs 240 crore will open for subscription on September 3 and remain open for subscription until September 10.
Service tax revenue at Rs 1,800 crore
Mumbai, August 29
Service tax collections have touched Rs 1,800 crore till date in the current fiscal even as the government today warned of strong action against those wilfully avoiding to pay this tax.
Target to export 30 lakh tonnes of sugar
New Delhi, August 29
The government today announced a sugar export target of 30 lakh tonnes for next season (October-September) saying a slew of incentives are being given to double the trade in the commodity.
Procter & Gamble declared best employer
Mumbai, August 29
Global outsourcing and consulting firm Hewitt Associates has ranked Procter & Gamble India as the best employer among both private and public firms in the country, while National Thermal Power Corporation was adjudged the best in the public sector category.
Marketing network to be strengthened
Shimla, August 29
The marketing network with the state will be expanded to facilitate fruit growers and farmers so that they get remunerative prices at their doorsteps and they are not exploited by middlemen.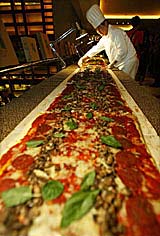 A Chinese chef prepares a 20-metre-long pizza, said to be the longest pizza in Shanghai, as part of hotel promotion to attract more guests on Thursday. Hotels in China's business capital Shanghai are starting to recover after a slowdown brought about by the SARS epidemic. — Reuters

Re-bidding to delay IA acquisition process
August 29, 2003
Govt mulls over interest rate cut for SSI sector
August 28, 2003
Excise Dept fails to check service tax evasion
August 27, 2003
IMF warns India of high fiscal deficit
August 26, 2003
Hind Lever to exit from non-core business, says Banga
August 25, 2003
Haryana losing 3 cr daily due to power pilferage
August 24, 2003
Infrastructure growth slips to 2.6 pc
August 23, 2003
British firm may not find easy to buy share in PTL
August 22, 2003
India proposes farm reforms at WTO
August 21, 2003
Action against erring Net providers sought
August 20, 2003