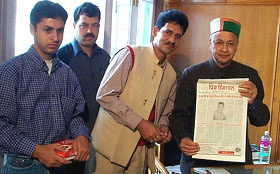 Himachal Pradesh Chief Minister Virbhadra Singh releases the first edition of the new weekly magazine 'Priya Himachal', in Shimla on Friday.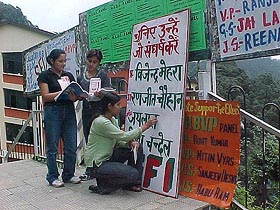 Students of Himachal Pradesh University gear-up for the students election in Shimla on Friday.
— Photos by Anil Dayal
Programmes on cultivation of herbs organised
Kulu, August 29
The Himalayan Forest Research Institute (HFRI), Shimla, organised three training programmes of two days each from August 23 to August 28 on commercial cultivation of high altitude medicinal herbs at Roreich Art Gallery, Naggar, 20 km from here under the aegis of Ananda Society an NGO.
Untreated water supplied to six villages
Sundernagar, August 29
Residents of Behali, Mahadev, Bharari, Ghangal, Khatrwari and Samkal are facing a problem as the water being supplied to them is not fit for drinking.
Nathpa Jhakri project to employ HP youth
Shimla, August 29
The Satluj Jal Vidyut Nigam Limited (SJVN), a public sector joint venture of the Central and Himachal Pradesh Governments, has decided that only the residents of this hill state would be eligible for jobs in certain categories in the prestigious Nathpa Jhakri Power Project.
No screening body to select Chief Secy
Shimla, August 29
There is no proposal to set up a screening committee to select a candidate for the post of the Chief Secretary.
Gazta is Vidhan Sabha Secy
Shimla, August 29
Mr J.R. Gazta, Managing Director of the HPMC, has been appointed Secretary of the Vidhan Sabha. Earlier, Mr B.M. Nanta, Director, Primary Education, was posted as the Secretary of the Vidhan Sabha.