Nursing wounds of delay
Chandigarh, August 29
Cherishing dreams of a career abroad, hundreds of nurses from Punjab have been left high and dry as the Punjab Nurses Registration Council has failed to send their validation forms to foreign agencies on time, upsetting their career plans and resulting in monetary loss.
Work on science city at snail's pace
Jalandhar, August 29
Work on the Rs 100-crore Pushpa Gujral Science City project is yet not over even though the deadline for its completion expired about one-and-a-half years ago. The foundation stone for the project on the Jalandhar-Kapurthala road near here was laid on October 17, 1997, by the then Prime Minister, Mr Inder Kumar Gujral.


And now Guru Granth Sahib in Spanish
Chandigarh, August 29
Now Guru Granth Sahib is available in Spanish in eight volumes, thanks to the efforts of Mr Gurdev Singh Khalsa of Houston. According to Mr Tarlochan Singh, Chairman of the National Commission for Minorities, the translation was done at the instance of Yogi Bhajan, chief of the World Sikh Dharma .
SAD to move Amnesty on police excesses
Chandigarh, August 29
The Shiromani Akali Dal, headed by Mr Parkash Singh Badal, had decided to submit a report regarding police excesses in Punjab to Amnesty International. A meeting of a committee set up by Mr Badal to prepare the report was held here today under the chairmanship of Mr Kirpal Singh Badungar.


Canada quashes 'black list' of 22 Sikhs
Amritsar, August 29
In a significant development that would fulfil a long-standing demand of the Sikhs after 'Operation Bluestar', the "black list" of Sikhs prepared in 1984 was quashed in Canada due to the efforts of Dr Bhisham Agnihotri, an American of Indian origin.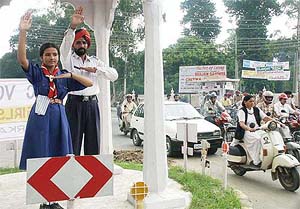 A girl scout learns traffic rules and signals from a traffic police at a busy crossing in Amritsar on Friday. — PTI photo
From pillar to post in search of daughter
Jalandhar, August 29
Mulkh Raj, a migrant labourer, is running from pillar to post to get an FIR registered regarding the abduction of his daughter by his neighbourer about a week ago.
Disappointment, chaos at DD function
Jalandhar, August 29
The function to mark three years of Doordarshan Punjabi here last night was a bitter experience for a large number of persons who were not allowed to enter the Doordarshan complex despite holding entry passes.
Health awareness drive from Sept 1
Fazilka, August 29
The Punjab State AIDS Control Society will launch a statewide family health awareness campaign. According to Dr J.S. Kahlon, Civil Surgeon, Ferozepore, during the fortnight-long campaign, beginning September 1, the Health Department, with the co-operation of the civil administration, will organise special camps to check sexually transmitted diseases and AIDS.
AIDS awareness campaign from Sept 8
Bathinda, August 29
An AIDS awareness campaign will be organised in the district from September 8 to 22. Disclosing this in a press note issued here today, Dr S.K. Goyal, Civil Surgeon, Bathinda, said the district had been divided into eight blocks for the campaign.
District status demand for Fazilka gets support
Jalalabad, August 29
The demand to upgrade the Fazilka subdivision as district headquarters received a boost when the local Bar association came out supporting the Fazilka Bar Association. A joint rally has held in support of the demand on Thursday.
Mann writes to Vedanti
Amritsar, August 29
Mr Simranjit Singh Mann, president, Shiromani Akali Dal (Amritsar) today presented a memorandum to the Jathedar, Akal Takht, Giani Joginder Singh Vedanti, expressing concern over the decision of the Supreme Court, dismissing his petition.
Govt staff stage dharna
Sangrur, August 29
At least 300 government employees under the banner of the Punjab Mulazam Sangharsh Committee today staged a protest dharna and took out a rally at the district administrative complex here in protest against the privatisation of public sector units and handing over of the control of government departments to Panchayati Raj institutions.
Six-yr RI for ASI
Kapurthala, August 29
Mr S.S. Gupta, Sessions Judge, yesterday convicted Tirath Singh, an Assistant Sub-Inspector, Punjab Police, under the Prevention of Corruption Act on a charge of accepting a bribe of Rs 20,000 from Sukhdev Singh, a farmer of Bhanoike village under Phagwara subdivision of this district, in order to help him in a land dispute case.
Two-year RI for ASI
Mansa, August 29
Mr Harsh Mehta, Chief Judicial Magistrate, Mansa, today convicted Assistant Sub-Inspector Jaswant Singh of the Punjab police and sentenced him to rigorous imprisonment for two years.
High Court
Directions sought for quashing notification
Chandigarh, August 29
If you are a backward class candidate with parents having an annual income of over Rs 1 lakh, you will not be considered for reservation in MBBS course — at least this is what a candidate has alleged before the Punjab and Haryana High Court.
20 thermal plant officials get bail
Ropar, August 29
At least 20 officers of Guru Gobind Singh Super Thermal Plant, Ropar, were today granted permanent anticipatory bail by the Additional Sessions Judge in one of the cases registered against them.



6 farmers' unions hold rally
Amritsar, August 29
Holding flags and placards and raising slogans against the government hundreds of farmers affiliated to six farmers organisations held a rally here today. They said that the government was working under influence of World Bank and other international organisations. Due to this reason the government had reduced the subsidy on farming, banned recruitment and commercialised education.


Farmers from Amritsar, Gurdaspur and Ferozepore hold a rally at Amritsar in protest against the anti-farmer policies of the state and the Central Government.
— A Tribune photograph



More water for irrigation
Chandigarh, August 29
Farmers in Punjab, Haryana and Rajasthan will get more water for irrigation purposes than what was available last year, it was decided at a meeting of the Bhakra Beas Management Board held here today.


Moga SHO ordered to be shifted
Chandigarh, August 29
If allegations in a complaint before the Punjab State Human Rights Commission are to be believed, a former sarpanch of Moga district was murdered by his own daughter and son-in-law. The duo later lodged a report with the police that the victim had committed suicide.
Blueprint for urban development released
Chandigarh, August 29
The Punjab Government has released a blueprint for development in the state keeping in view the urbanisation scenario likely to emerge by 2021. Releasing the document — Urban Vision Punjab-2021 — Mr Raghunath Sahai Puri, Housing and Urban Development Minister, said urban centres played a critical role in economic re-generation.


Chemist shot dead at Jalalabad
Jalalabad, August 29
A chemist, Pawan Kumar (25), was gunned down at his shop at DAV College Road here late last night by three unidentified robbers before looting cash from his counter. The chemist was sitting at his shop, counting the day's collections, when three persons, who had covered their faces with scarves, stopped their motor cycle in front of his shop.
Self-proclaimed sadhu booked for abduction, rape
Hoshiarpur, August 29
A case of abduction and rape by Sukhdev Singh, a self-proclaimed sadhu, has been registered at the Mahilpur police station. According to the FIR the father of the victim, belonging to Yamunanagar, used to drink liquor heavily, due to which members of his family were upset.
Prisoner dupes fellow inmates
Amritsar, August 29
In a rare incident, a prisoner in Central Jail here duped fellow prisoners of thousands of rupees on the pretext of getting them released on bail. He gave bail orders to them, which were later found to be fake in the court of the Chief Judicial Magistrate.
No salaries paid to college staff for one year
Chandigarh, August 29
Staff of Guru Nanak College, Ferozepore Cantonment, have not been paid salaries for the past one year. All the staff in the teaching and non-teaching categories have been deprived of the benefit in the college affiliated to Panjab University.
Varsity constitutes panel to look into reappear cases
Jalandhar, August 29
Punjab Technical University has constituted a five member committee to look comprehensively into all reappear cases of B.Tech courses. Meanwhile, the university has allowed 675 students of different engineering colleges to attend the 5th semester classes, who could not clear the mandatory first semester exam, subject to the recommendations of the committee.
Punjab to revamp technical education
Chandigarh, August 29
The high-powered committee constituted by the Punjab Government for restructuring and updating the system and curricula of technical education and vocational training will submit its report within six months, Technical Education Minister, Mohinder Singh Kaypee said here yesterday.
Education bodies' staff demand pay
Sangrur, August 29
To protest against the non-payment of salaries since March to nearly 400 employees of the District Institutes of Education and Training, Staff Welfare Association, Punjab, has called upon the employees of the District Institutes of Education and Training to wear black badges on September 5, the Teachers Day if the salaries of the staff are not released by September 4.
Students hold protest march against fee hike
Sangrur, August 29
A large number of students under the banner of Punjab Radical Students Union today took out a protest march, through the town against the failure of the authorities of refund the hiked amount of fee despite the withdrawal of fee hike by the state government.
Grace marks denied despite HC order
Chandigarh, August 29
Students of the B.Tech course of Punjabi University have urged the Vice-Chancellor, Mr Swaran Singh Boparai, to implement the Punjab and Haryana High Court decision regarding the awarding of the grace marks to them.
Students, teachers to burn CM's effigy
Bathinda, August 29
Students of the local Government Polytechnic College and Industrial Training Institute along with teachers have decided to burn the effigy of the Chief Minister, Capt Amarinder Singh, on September 13 in front of his house at Patiala in protest against the government's move to handover polytechnic colleges and ITIs to private concerns.