Thursday, September 11, 2003, Chandigarh, India



B U S I N E S S
NFL selloff gets jolt
Bids below reserve price
New Delhi, September 10
In a severe jolt to disinvestment of National Fertilisers Ltd, the three bids submitted for acquiring majority stake in the fertiliser PSU are understood to be below reserve price set by government.
Sony Ericsson targets youth brigade
Chandigarh, September 10
The Indian mobile industry is becoming a battleground for handset majors. While Motorola, Alcatel, Nokia recently launched a slew of new handsets targeted at specific segments, LG plans to sell imported GSM handsets. China's Bird International, too forayed into Indian handset market last week.
Reliance may be allowed to sell LPG directly
New Delhi, September 10
The government is likely to allow Reliance Industries Ltd (RIL) to sell domestic cooking gas (LPG) directly to bulk consumers in the country to overcome the problem of glut in LPG during lean season.
Microsoft signs MoU with Punjab Govt
New Delhi, September 10
Aimed at making 13.5 lakh school students in Punjab computer literate, Microsoft Corporation India private Limited today signed a MoU with the Punjab Government for jointly developing and deploying an array of technology solutions for e-governance in the state.
Trade ties to top agenda of Indo-Russian summit
Moscow, September 10
Trade and economic ties between India and Russia are to top the agenda of Prime Minister Atal Bihari Vajpayee and Russian President Vladimir Putin's summit meeting in Moscow in November.
SEBI bars 4 firms from accessing markets
Mumbai, September, 10
The Securities and Exchange Board of India (SEBI) has barred four investment firms and their directors from accessing the capital market and dealing in securities in any manner for five years.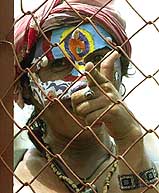 An anti-globalisation protester mocks police officers through a fence at a roadblock in Cancun, Mexico, venue of the five-day WTO Ministerial, on Tuesday. — Reuters

NCAER in favour of unlimited mobility for WLL
September 10, 2003
Pak refuses MFN status to India
September 9, 2003
Quark to develop Mohali as global base
September 8, 2003
Reddy takes over as RBI Governor
September 7, 2003
GDP rate likely to grow by 6 to 6.5 pc
September 6, 2003
FDI set to rise in India
September 5, 2003
Rising deficit can hit growth
September 4, 2003
Rs 2,500-cr relief package for BSNL, says Cabinet
September 3, 2003
Trade deficit widens
September 2, 2003
Tyre industry outlook positive, says Onkar Kanwar
September 1, 2003