Jeweller robbed of cash, gold chain
Chandigarh, September 14
Five youths robbed a local jeweller, Mr Kulwant Rai Singla, some cash and a gold chain and dumped him in Sector 23 here last night. The youths were carrying a revolver also.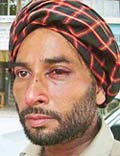 Cop assaults resident
SAS Nagar, September 14
A resident of Sohana village, near here, was allegedly beaten up by a policeman there last night. Mr Nirmal Singh (34), a contractor dealing in wood work, told newspersons here today that when he went to his house late last night, he saw the munshi of the police station Mr Jarnail Singh, sitting and chatting with his wife.
Missing teenagers return home
SAS Nagar, September 14
Two teenagers of Kumbra village, who went missing from Apni Mandi here on the evening of September 12, returned home today. Mr Gurmukh Singh, husband of the sarpanch of the village, Ms Surinder Kaur, said the youths, Baljit Singh and Kamaldeep Singh, had returned safely.
Withdraw fee hike in colleges, Bansal asks Admn
Chandigarh, September 14
Panjab University has expressed surprise over UT Administration's move of not withdrawing the fee hike implemented in its affiliated colleges in the city during this session. This was conveyed at a recently held meeting of a high-powered committee of the university that was looking into the issue of fee hike.


IN Chandigarh there has been a change of guard at the top. Mr Virendra Singh, Adviser to the UT Administrator, a 1969 batch official of the UT cadre of the IAS, was suddenly shifted from Chandigarh. The Home Secretary, Mr Raminder Singh Gujral, a 1976 batch officer of the Haryana cadre was asked to take over as Adviser till a permanent appointment was made.


PU as DU

Regional identity

The Indian addiction

Marriage season

Apple or potato?

Poll aftermath. — Tribune photo by Manoj Mahajan