Pakistan test-fires ballistic missile
Islamabad, October 3
Pakistan today 'successfully' test-fired a short-range surface-to-surface ballistic missile Hataf-III, capable of carrying conventional nuclear warheads and having a range of 290 km which could hit targets in India.

Fernandes unfazed

Pakistan's first short-range surface-to-surface ballistic missile HATF-III Ghaznavi, capable of carrying nuclear warheads, takes off from an undisclosed location on Friday.
— Reuters photo
HOROSCOPE
THE TRIBUNE MAGAZINES
On alternate Mondays

On Sundays
On Saturdays
IN PASSING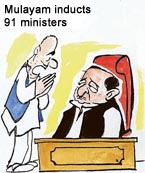 Thank you for the offer Sir, but I am already a minister!

by Sandeep Joshi
Quota for economically poor okayed
New Delhi, October 3
In what can be described as election-oriented decisions, the government today not only approved the amendment to the Constitution for bringing about reservation for economically backward classes, but also decided to give further sops to sugarcane farmers in non-sugarcane producing states.
US redesignates Harkat as terrorist outfit
Washington, October 3
Pakistan-based militant outfit Harkat-ul-Mujahideen, Al-Qaeda, LTTE and Hamas are among the 25 groups redesignated by the United States of America as Foreign Terrorist Organisations making it illegal for persons in the US to provide them with material support.
BJP takes exception to Jamali's remarks
New Delhi, October 3
Bharatiya Janata Party President M. Venkaiah Naidu today took exception to Pakistan Prime Minister Mir Zafarullah Khan Jamali's statement in Washington that the BJP was blocking normalisation of ties between the two countries, terming the allegation as "ludicrous".
World page

US Congressmen tell Jamali to stop violence in J&K
Militants kill 3 Doda pilgrims
Srinagar, October 3
Fourteen persons, including three pilgrims, seven militants and a counter-insurgent were killed in Jammu and Kashmir where the police averted a major tragedy with the timely detection of a powerful IED on the Srinagar-Jammu national highway since last night, official sources said today.
SAD moves rights panel against Amarinder
New Delhi, October 3
The Shiromani Akali Dal president, Mr Parkash Singh Badal, along with 45 party legislators and five MPs, including the Shiromani Gurdwara Parbandhak Committee president, Mr Gurcharan Singh Tohra, today met the chairman of the National Human Rights Commission, Justice A.S. Anand, alleging human rights violation and third-degree treatment meted out to political opponents by the Congress government in Punjab.


Punjab page: Fresh Vigilance directive to Sukhbir


Mr Parkash Singh Badal along with Akali Dal legislators and members of Parliament comes out after a meeting with the NHRC Chairman, Justice A.S. Anand, in New Delhi on Friday.
— PTI photo
In Sports Tribune today
TRIBUNE SPECIAL

State of universities
A compendium of special articles on institutions of higher learning in Punjab, Haryana & Himachal Pradesh.

6 rights activists detained
October 3, 2003

Naidu injured in mine blast
October 2, 2003

Joshi's resignation rejected
October 1, 2003

Al-Qaida's call to topple Musharraf
September 30, 2003

India beat Pak, lift Asia Cup
September 29, 2003

2 cr Bangladeshis in India: Fernandes
September 28, 2003

No bilateral talks with Pak at SAARC meet: PM
September 27, 2003

No negotiations on terrorism
September 26, 2003

PM, Bush discuss Iraq, terrorism
September 25, 2003

Let us increase Mission strength, India tells Pak
September 24, 2003