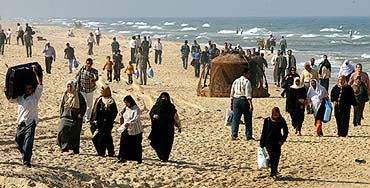 Palestinians walk along the Gaza beach after Israel sealed off the coastal road linking north and central parts of the Gaza Strip on Sunday. — Reuters photo
PM wants terrorist camps in PoK dismantled
New Delhi, October 5
Prime Minister Atal Bihari Vajpayee today called for dismantling of all terrorist training camps in occupied Kashmir while regretting that Islamabad continued to deny that it was running such camps.


Two children killed in blast
In Agriculture Tribune today
HOROSCOPE
THE TRIBUNE MAGAZINES
On alternate Mondays

On Sundays
On Saturdays
Sukhbir may not keep date with vigilance today
Chandigarh, October 5
The Punjab Vigilance Bureau's attempt to summon Rajya Sabha MP, Sukhbir Badal for questioning here in the disproportionate assets case may not work out as he is unlikely to keep his date with the bureau tomorrow, according to sources.


In video (28k, 56k)

Air Force personnel march in front of an IL-76 aircraft during the rehearsal for the forthcoming Air Force Day celebrations in New Delhi on Sunday. — PTI
Charges against Phaneesh baseless, says iGATE
Bangalore, October 5
iGATE Global Solutions, employers of Mr Phaneesh Murthy, today said they believed the latest allegation of sexual harassment against the former Infosys Executive was "without foundation.''
NCM chief raps Sikh sportsmen for not sporting turbans
New Delhi, October 5
National Commission for Minorities Chairman Tarlochan Singh has expressed regrets at top Sikh sportsmen trimming their beards and hair, acts which he said were encouraging apostasy in the community's younger generation.


Aishwarya to dine with top cops
Amritsar, October 5
Bollywood actress Aishwarya Rai today looked ravishing in a bright pink suit as she danced with her on-screen hubby-to-be Martin Henderson in the wedding scene of her sister in the film, Namrata Shirodkar, and Naveen Andrews for the Indo-British production 'Bride and Prejudice' amid tight security.

Bollywood actress Aishwarya Rai seen with the director of "Bride and Prejudice," an Indo-British production, being shot in Amritsar on Sunday.
— Tribune photo by Rajiv Sharma
TRIBUNE SPECIAL

State of universities
A compendium of special articles on institutions of higher learning in Punjab, Haryana & Himachal Pradesh.

Government warns telecom operators
October 5, 2003

Mulayam's Cabinet now has 98 members
October 4, 2003

6 rights activists detained
October 3, 2003

Naidu injured in mine blast
October 2, 2003

Joshi's resignation rejected
October 1, 2003

Al-Qaida's call to topple Musharraf
September 30, 2003

India beat Pak, lift Asia Cup
September 29, 2003

2 cr Bangladeshis in India: Fernandes
September 28, 2003

No bilateral talks with Pak at SAARC meet: PM
September 27, 2003

No negotiations on terrorism
September 26, 2003