THE TRIBUNE MAGAZINES
On alternate Mondays

On Sundays
On Saturdays
IN PASSING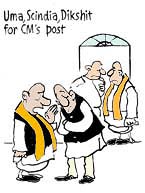 Now we should demand 33 per cent reservation for men.

by Sandeep Joshi
Venkaiah rules out early poll


New Delhi, December 4
BJP President M. Venkaiah Naidu today ruled out early Lok Sabha poll despite the party dethroning the Congress with thumping victory in Assembly poll in Madhya Pradesh, Chhattisgarh and Rajasthan.
Chhattisgarh CM to be decided today
New Delhi, December 4
The BJP President, M. Venkaiah Naidu, will hold consultations with the newly elected party MLAs in Raipur tomorrow before formally announcing the name for chief ministership in Chhattisgarh.


Nation page: Raman leads race for chief ministership
INLD bags four seats in Rajasthan
Chandigarh, December 4
Leaders of the Indian National Lok Dal are patting themselves for the performance of their party in the Rajasthan Assembly elections. Unlike the UP Assembly elections where the INLD drew a blank, the party has been able to win four seats in Rajasthan.
Thousands duped of Rs 40 crore
Chandigarh, December 4
Thousands of youth across the country have been duped of about Rs 40 crore by two city-based Internet solution companies — Best Internet Solutions and Onlinejobwork.com. The police apprehends that the total amount involved in the alleged racket could cross Rs 100 crore after thorough investigations.


MiG-29 crashes near Hoshiarpur; pilot safe
Mananhana (Hoshiarpur), December 4
A MiG-29 crashed into fields on outskirts and border of three villages -Mananhana, Chela and Data- this afternoon. No loss of life was reported.
Smoke billows out from the remains of a MIG-29 aircraft which crashed near Hoshiarpur on Thursday. — Photo by Sukhwinder
In Career Guide today
Turmoil in Parliament over PSUs, Judeo issue
December 4, 2003


31 die in bus mishap near Chamba
December 3, 2003


Badal, Sukhbir sent to Patiala jail
December 2, 2003


Pak to lift ban on Indian overflights
December 1, 2003

India differs with EU on Pak policy
November 30, 2003


HC stays tribunal order on transfers
November 29, 2003


SC upholds Punjab's decision on
liquor fee
November 28, 2003


Guns remain silent
November 27, 2003


Ceasefire begins
November 26, 2003


India goes a step ahead, offers truce in Siachen
November 25, 2003