THE TRIBUNE MAGAZINES
On alternate Mondays

On Sundays

On Saturdays

IN PASSING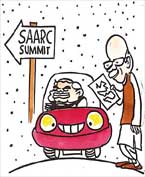 The road map to peace is clear but the ride in the foggy condition may be bumpy.

by Sandeep Joshi
(Click to enlarge)
Mumbai-Karachi flights resumed
Mumbai, January 2
Making its return flight following resumption of air services between India and Pakistan, a Pakistan International Airline Airbus A-300, carrying 203 passengers, including two infants, left for Karachi today after a delay of 90 minutes.
2 terrorists, 4 jawans die in attack on Jammu railway station
Jammu, January 2
Four security personnel, including Lieutenant Triveni Singh, were killed as terrorists wearing Army uniform attacked the crowded railway station here this evening. The security forces killed two terrorists and search was going on for the third one.
Cong keen on poll pact in UP
New Delhi, January 2
There is almost a desperation in the Congress to firm up an electoral alliance in Uttar Pradesh as it realises the crucial role this state will play in determining the outcome of the coming Lok Sabha poll.


Nation page: Mulayam opposed to anti-BJP front
Punjab Cong MLAs summoned to Delhi
New Delhi, January 2
In a move to set the house in order in view of the "early" Lok Sabha polls, the AICC panel has summoned Punjab Congress legislators to the Capital in a bid to bridge the differences within the state Congress Legislative Party.


Punjab page: No room for dissidents in Punjab Bhavan


The Indian Science Congress is meeting in Chandigarh for its 91st session from January 3 to 7. The Tribune today carries a special supplement with articles that focus on what Indian science should aim at in the near future. Several eminent scientists have accepted our invitation to write in the supplement. — H. K. Dua (Editor-in-Chief)

Story on Chandigarh page:
3,500 delegates in city for science congress
Sinha flies into Pak as air links are restored
January 2, 2004

Foreign Secys struggle to iron out differences
January 1, 2004


Capt shifts Pandey
December 31, 2003

Pak not to raise Kashmir issue
December 30, 2003
India to call for joint SAARC plan on terror
December 29, 2003
Indian security cover for Vajpayee in Pak
December 28, 2003

Musharraf's attackers identified
December 27, 2003

Musharraf escapes assassination bid
December 26, 2003

EC censures Amarinder, Ajit Jogi
December 25, 2003

Stop terror for talks, PM tells Pakistan
December 24, 2003

Ex-PM Rao, Chandraswami let off in cheating case
December 23, 2003

CBI registers case against Judeo, three others
December 22, 2003