Calling Beagle... Where are you?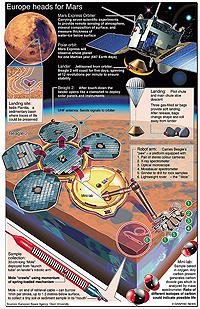 After it detached from Mars Express on December 19, Beagle 2— the probe that was meant to land on the Martian surface on Christmas morning— stopped communicating with the mothership, and now many fear that it may be lost for ever. Kuldip Dhiman recounts the anxious moments of European Space Agency's ambitious mission to planet Mars.

It is one law that scientists fear the most, and it isn't even a scientific law! No matter how meticulously you plan, no matter how many tests and dry runs you conduct, if things can possibly go wrong, they will. The scientists and engineers of European Space Agency's Mars Express project had left nothing to chance. They had been working and sweating for years, and just when their hour of glory arrived, things began to go wrong, at least for the time being.
Anniversary celebrations
The enlightened mind's lustrous path
In September 1893, a 17-year-old American called E. E Dickinson approached Swami Vivekananda when the World Parliament of Religions was in session in Chicago, hoping that the learned monk would offer to be his teacher. Vivekananda, reading the teenager's thoughts, gently told him that he could not be his guru but he would certainly have a guru, whom he would meet later in his life and who would present him with a silver cup.