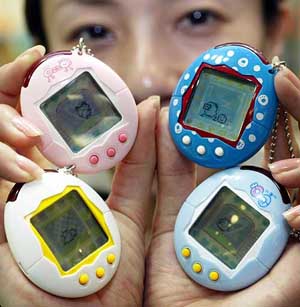 A Bandai employee displays the company's new version of its virtual pet toy, "Returned Tamagotchi Plus", in Tokyo on Wednesday. Japan's largest toymaker, Bandai's new Tamagotchi, which means "cute little egg", simulates the life cycle of a pet and has infrared-ray communication function through which a virtual pet could make a friend to give gift, marry and have a baby. — Reuters
Speed up reforms to trim deficit: experts
New Delhi, February 4
The government will have to push ahead aggressively with economic reforms, including privatisation of state-run firms, to bring down fiscal deficit to sharply lower levels, say experts.
Budget to curb deficit,
says S&P's
Chandigarh, February 4
Standard & Poor's Ratings Services said today that the recent mini Budget announced by the government indicates a greater determination to curb fiscal deterioration. Nevertheless, the mini Budget must be seen in the context of the anticipated general election as well as strong growth.
CORPORATE NEWS
Reliance raises $250 million
Mumbai, February 4
Reliance Industries today concluded a $ 250 million international syndicated
loan at 90 basis points over Libor.
Gujarat Alkalies rights issue

Leyland to tap foreign markets

Cipla approves demerger of 6 firms
Hyundai sales jump 66 pc
New Delhi, February 4
Hyundai Motor India Ltd (HMIL) today said January sales were up 66 per cent, year-on-year, at 17,035 on the back of higher demand for the hatchback Santro Xing. Domestic sales grew by 25 per cent over January 03 sales of 10,078 units to touch 12,608 units.