PUNJAB
HARYANA
JAMMU & KASHMIR
HIMACHAL
REGIONAL BRIEFS
NATION
OPINIONS
MAILBAG
BUSINESS
SPORTS
WORLD

B U S I N E S S

USA cannot do without outsourcing jobs
Washington, DC, February 20
Two prominent coalitions of corporations, universities, research institutions and trade associations are speaking out in support of outsourcing US jobs to countries like India and the controversial H-1B worker visa programme.
Cheap credit still a dream for many farmers
Chandigarh, February 20
While the banks claim unprecedented success of the Kisan Credit Card (KCC) scheme, farmers continue to remain a dissatisfied lot. The National Bank for Agriculture and Rural Development (Nabard) say that nearly 95 per cent farmers had become a part of this scheme in both Punjab and Haryana, cheap farm credit still remains a distant dream for many.
Marketing infrastructure scheme for farmers soon
Chandigarh, February 20
The Union Agricultural Ministry will shortly start a marketing Infrastructure scheme under which basic infrastructure for storage, packaging and laboratory testing facilities will be provided to private companies, traders and farmers for their produce.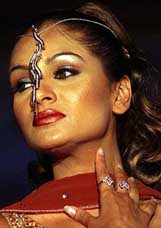 A model displays diamond jewellery at a show to launch the "Glitterati" collection in Mumbai on Thursday. Designed by Indian designer Vikram Phadnis, the collection was launched in association with the International Indian Film Academy. — Reuters