HOROSCOPE
THE TRIBUNE MAGAZINES
On alternate Mondays

On Sundays

On Saturdays

Najma may take exit from Cong
New Delhi, February 23
The Congress is in for another setback. Having failed to dissuade former Union Minister Arif Mohammad Khan from joining the BJP, it is now faced with the prospect of losing another prominent Muslim leader — Rajya Sabha deputy chairperson Najma Heptulla — to its political rival.
Advani can't use IAF aircraft, says EC
New Delhi, February 23
In what may appear to be an embarrassment to the BJP, the Election Commission today turned down the Union Home Ministry's request to allow the Deputy Prime Minister, Mr L.K. Advani, to use the Indian Air Force aircraft during electioneering for the Lok Sabha poll.
Vijay Anand dead


Mumbai, February 23
Vijay "Goldie" Anand, who directed classic "Guide" and acted in a number of Bollywood movies, died here this morning, two days after suffering a massive heart attack. He was 71.


In video (28k, 56k)

Jailbreak in Chapra, 8 escape
Patna, February 23
At least eight prisoners today escaped from the Chapra divisional jail, according to the Bihar Home Secretary, Mr B.K. Haldar. The state government has ordered an inquiry into the incident, said the Jail Minister, Mr Baswan Bhagat.
Osama in Afghanistan
Kabul, February 23
Osama bin Laden is still in Afghanistan and is planning further attacks on American interests, a spokesman from Afghanistan's ousted Taliban regime said today.


In video (28k, 56k)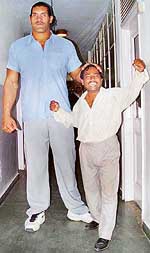 Himachal's towering Dalip has 200 WWF titles in his belt
Chandigarh, February 23
With over 200 wrestling tittles under his belt, India's sole WWF wrestler now wants the government to set up training facilities in the country for grooming wrestlers to international standards. Towering an inch over seven feet, Dalip Singh has earned his tittles the hard way.

7-foot-plus Dalip towers over a man of average height in The Tribune office on Monday. — A Tribune photograph

In Education Tribune today

PM launches insurance scheme from Lucknow
February 23, 2004
Pak tour from March 10
February 22, 2004
2 pc additional DA for Central staff
February 21, 2004
30 hurt as blast rocks Amritsar Dist Courts
February 20, 2004
Indo-Pak roadmap for peace
February 19, 2004
EC not to let ball hit ballot
February 18, 2004
Indo-Pak talks begin
February 17, 2004
Kanwaljit SAD choice for Patiala
February 16, 2004
PM clears Pak tour
February 15, 2004
France may compromise on turban issue
February 14, 2004