PUNJAB
HARYANA
JAMMU & KASHMIR
HIMACHAL
REGIONAL BRIEFS
NATION
OPINIONS
MAILBAG
BUSINESS
SPORTS
WORLD

B U S I N E S S

Nathpa Project generates 1,000 million units
New Delhi, March 11
The Satluj Jal Vidyut Nigam Ltd, a public sector undertaking, has achieved a mark of 1000 million units of power generation in less than five months of operation from its flagship Nathpa Jhakri Hydro-electric power project in Himachal Pradesh, said Mr Y.N. Apparao, CMD of the Corporation here today.

Tatas, Reliance lock horns over bandwidth


New Delhi, March 11
As if brushing aside VSNL's contention that the bandwidth row it had with Reliance-owned FLAG cable was a commercial dispute, Trai Chairman Pradip Baijal has asked the Tata-owned telecom giant to resolve the issue at once to provide landing facilities to ILD operators.

BSNL to decide on ILD carrier next week


New Delhi, March 11
The state-owned BSNL will take a decision on selecting carriers for international long distance calls on its network next week, a high-ranking company official said today.

Shourie rejects US criticism over outsourcing


New Delhi, March 11
Rejecting US criticism that India has a closed economy, the government said today growth in imports was a testimony to the liberalising economy and expressed confidence that the IT industry will find a "creative solution" to the contentious outsourcing issue.
Editorial: Mantra of growth

Editorial: Politicising outsourcing

Special Article: Dalits' place in private sector
Top e-mail providers sue spammers
New York, March 11
In an apparent coordinated effort to stop 'spam', four major Internet providers — American Online, Earthlink, Yahoo and Microsoft — have filed law suits seeking monetary damages and injunctions against senders' bulk junk e-mail.
Dalda re-enters market
New Delhi, March 11
Dalda, a name synonymous with hydrogenated vegetable oil, was re-launched today in the market by being projected as a healthy cooking medium. "We hope to regain the 100,000 tonne market that Dalda once enjoyed across the country," Christopher White, regional general manager of Bunge Limited — a global oil major that acquired Dalda in August, 2003 — told a press conference.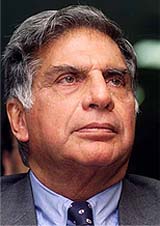 Ratan Tata, chairman of India's second-largest business conglomerate, the Tata group, listens during an award ceremony in Mumbai on Thursday. Tata received an award for excellence in quality. The Tata group spans 85 companies from salt to software, with an annual revenue of over $11 billion. — Reuters

Outsourcing row only till US poll: Shourie
March 11, 2004
Bread for mid-day meal scheme proposed
March 10, 2004
ICRA deflates
feel-good balloon
March 9, 2004
Hertz to launch services in Punjab
soon
March 7, 2004
ONGC issue oversubscribed
within minutes
March 6, 2004
Firms should be
allowed to sell oil at international rate
March 5, 2004
Don't manipulate
ONGC share price,
warns Shourie
March 4, 2004
India, Pak favour opening of borders to boost trade
March 3, 2004
Government fixes CMC price at Rs 485
March 2, 2004
Safexpress targets Rs 500 cr turnover, says Pawan Jain
March 1, 2004