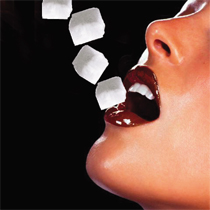 The body requires some amount of sugar for energy. True, but it has to come from natural fruits, vegetables, grains, milk, dates, raisins, etc. Getting this energy from sugar is nothing short of suicidal because it is more damaging to health than all other narcotics combined, writes Amar Chandel

ALARMED by the falling consumption, sugar manufacturers recently inserted advertisements in various publications to disprove that sugar was bad for health. It was a desperate marketing manoeuvre, but many were taken in by the assertion. For their sake, it is necessary to set the record straight.
A historical moment frozen in time
Chitleen K. Sethi
A manuscript born of a routine ritual but, when found, after 125 years becomes an invaluable witness to history. There is a 33-page description of a celebration that took place in the princely state of Kapurthala in 1887 to mark the Queen Empress Jubilee Festival in a book.
Cycle as a stage
Bibhuti Mishra
SUBODH Patnaik and his friends cycle through rural Orissa to spread theatre and share a social message with the people. Pedalling furiously, they bring theatre to villages on their cycles. These are not plays about morality.
Adventure
Thrill of kayaking on the Ganga
Tarun K. Roy
KAYAKING is the most challenging and thrilling of water sports. Kayaking is, in fact, an event in the Olympics. A kayak is a specialised fibreglass or plastic boat, propelled by a double-bladed paddle.
Crossing boundaries
Chasing the fragrance
Anees Jung
IT seems as if all that we once lived is for sale. Fort Cochin is one more example. Twenty years ago I was a guest in Tower House, one of the Dutch colonial houses whose windows opened out to the Arabian sea and the Chinese nets.
Britney eyes Cherís palace
HOME is where the heart is. Teen pop sensation Britney Spears has her heart all set on a new house, which happens to be Cherís palatial home in Malibu in California.