Punjabi television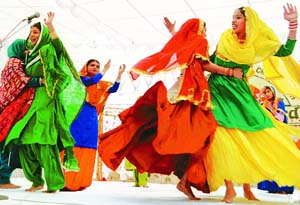 All bubble, no soap
Punjabi channels hold much promise and potential. Far from being regional, they are beamed to several countries. Yet, the fare is lacking in verve and variety. Pop music is the prop on which the channels thrive. There is little else by way of serials, chat shows and current affairs, says Randeep Wadehra

Villagers partial to PTV
Rashmi Talwar
GIVING Doordarshan a go-by, it is Pakistan Television (PTV) that reigns supreme in places near the India-Pakistan border in Amritsar district. Though most of the Pak telecasts are in Urdu, they are peppered with large doses of Punjabi, thus endearing them to Punjabis in this side of the border.
Punjabi pop is a hit with youth
Punjabi Antenna
DD's dolorous show
DD Jalandhar was inaugurated on April 13, 1979. So, we're into its silver jubilee year. And yet, there're no celebrations! Why this mournful silence when, at least, the Kendra's past telecasts have been admirable? Memorable telefilms like Karmavali, based on Amrita Pritam's story, and Chhawain Di Rutt (season of spears), depicting terrorism, as well as unforgettable serials like Lafafi, Raet Di Ikk Mutthi and Parchhavin should be enough to trigger off dhol beats to the chant of chakk de phatte! Among its other achievements, Chunni and Sanjha Choolha, though in Hindi, had typical Punjabi flavour.