THIS ABOVE ALL
The potent Gayatri Mantra
by Khushwant Singh
I HAVE succeeded in memorising the lines (like to show-off the little knowledge Ihave) but I have failed to comprehend their meaning nor understood why Hindus regard it as the mantra of all mantras. To me it appears to be no more than a hymn in praise of the sun. Allama Iqbal in his poem Aaftab also regarded it as a litany of solar worship. I have two other versions in translation. The first is by Professor V.N. Datta. The second by Nafay Kumail Radaulvi. Before their versions I reproduce the original:
Aum Bhur Bhuvah Svah, Tat Savitur Varenyam
Bhargo Devasya Dhimahi Dhiyo Yo Nah Prachodayat
Professor Datta translates the lines as follows:
"O Lord, who pervades the earth,
The intermediate world and the world of life,
We mediate on the supreme light
Of the illumining Sun-god,
That he may impel our mind."
Rudaulvi, who is himself a poet of some calibre, translated the same lines in more poetic words:
Oh Lord, the soul of this beautiful world and the founder of day and night
You are the creator of the universe and the provider for all
The Moon the Sun are there due to you and help creation
The life and death is subject to your existence
You are the Noor that is everywhere
The heart beats and all breathe with your permission
Please have mercy in the name of that noor
The knowledge and Aql gets the right intellectual orientation
Can some reader tell me why this mantra is looked upon as the most potent?
Loving tigers
Many years ago, I happened to be in the Nagerhole Wildlife sanctuary. I drove through the early part of the night, hoping to catch a glimpse of a tiger or two and other beasts of the jungle. All I saw was a herd of elephants, a few gaur and lots of cheetal deer. My disappointment was compensated by running into Vivek Sinha and his wife. Vivek, who retired as Additional Secretary, had made his home in evergreen Bangalore, which is close to a few wildlife sanctuaries and rich with bird life. Vivek's passion in life is to shoot wildlife with his camera. Three years ago, his The Tiger is a Gentleman was published. I was enchanted by his pictures and the encounters he had with those ferocious rulers of the jungle. Recently, he has come out with another book The Vanishing Tiger: Wild Tigers Co-predators and prey species (Salamander). As the title claims, besides tigers, it has photographs of leopards, hyenas, wild dogs, foxes, varieties of deer, a python and lots of birds. The pictures are spectacular and show animals and birds living in total freedom in their habitats. I haven't seen any better.
In the covering letter that Vivek Sinha sent me, he included a few couplets in Urdu composed by him. The first two pretty well capture his philosophy of life:
EARLIER COLUMNS

It is time to revive Hindustani

April 3, 2004

Recipe for cooking bestsellers
March 27, 2004

Relative appeal of beauty and films
March 20, 2004

Khayyam was a rationalist
March 13, 2004

Look for your goldmine
March 6, 2004

Of scarecrows and political satire
February 28, 2004

The importance of punctuating thought
February 21, 2004

Ghalib knew his worth
February 14, 2004

In the sunset of their lives
February 7, 2004

Chennai, the city of achievers
January 31, 2004

Pakistanis are like us only
January 24, 2004

Farid was the first to use Punjabi in poetry
January 17, 2004

Sahir's tortured soul
January 10, 2004

The colourful story of dull dictionary
January 03, 2004

Guru Gobind Singh did not want to separate God from God
December 27, 2003

The art of doing nothing
December 20, 2003

Manto's description of the mayhem of 1947
December 13, 2003

Election fever spreads
November 29, 2003

Jayalalithaa has grown more enigmatic with time
November 22, 2003
Dozakh-o-jannat kay chakkar mein nahin phanstaa
Yeh mahaz Sheikh-o-Birahman kee rozee kay zareeye hain
Pasey-marg kaun jaaney kay hota hai,
Zindgi jeeta hoon, maaloom hai kya hota hai
I do not entangle myself in the maze of heaven or hell, They are items preachers of Islam and Hinduism sell, who knows where we go after we are dead? I live my life to the full, I know what it is, I live it well.
In his second composition, Vivek Sinha spells out another aspect of his falsafa (philosophy):
Gunahgaar hoon to apna hoon;
Kisee aur ka naheen;
Rahta hoon sadaakat say
Par Kisee Khauf say nahi
I am a sinner; my sins be on my head
I do not sin against anyone else;
I live in peace with myself.
I do not live in dread.
Bharatiya limericks
You got it wrong
How they talk to Muslims, Messers Vajpayee, Advani
"We will mend our ways, vote for us; see,
We are friendly with Pak
But they forget when they talk
That Indian Muslims are Indian, not Pakistani.
Saffron bandwagon
Why such crowding after BJP bandwagon rides?
Is there some ulterior motive that guides?
The reason is obvious
Intentions, though dubious
It is the bread that's buttered on both sides.
Hefty Heptullah
Najma Heptullah is making statements brave
Strange are the ways the politicians behave
Or is it no more strange
That genes too undergo change
Maulana Azad must be turning in his grave.
(Courtesy: J.R. Jyoti, Secunderabad)
Name game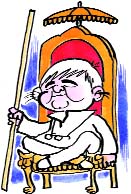 A smart Malayalee — Debo Nair
A rich Malayalee — Millio Nair
A dynamic Malayalee — Pheno Menon
A talkative Bengali — Chatter-jee
A Maharashtrian who acts as James Bond — Rajan More
A Jat who falls at people's feet — Charan Singh
A Jat who falls at people's feet and stays there — Gir Charan Singh
A Jat who falls at just anyone's feet — Har Charan Singh
A Bihari who distributes stale food at temples — Kalka Prasad
A Bihari who is above the law — Law-loo Prasad.
(Contributed by Brig Sukhjit Singh, Kapurthala)