THIS ABOVE ALL
Relative appeal of beauty and films
Khushwant Singh
ONE thing which continues to baffle me is that while all devout Hindus accord maternal status to cows (gau mata) because they drink its milk after they have been weaned, they do not pay similar deference to the buffaloes which in fact provide more milk than cows. Cows have found their patron saint in Uma Bharati, Chief Minister of Madhya Pradesh. She has given top priority to making gaushalas in every cluster of village, but has overlooked rights of buffaloes. While slaughter of cows has been banned and made into a criminal offence, to the best of my knowledge, no such ban has been imposed on the slaughter of buffaloes. On the contrary, severing a buffaloís head with one stroke of the khukri is considered a religious ritual in Nepal, Garhwal and certain other states during Dasehra.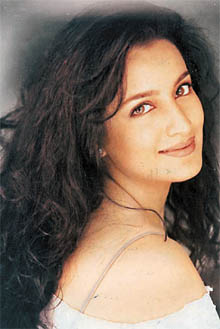 Tisca Chopra
Uma Bharati has reaffirmed existence of miraculous powers in cow dung and urine. "So powerful are the qualities of cow dung that walls insulated with it resist nuclear attack and radiation", reads an extract from "Vision Statement", issued at the behest of the Chief Minister. As a matter of fact, buffalo dung is more frequently used for building mud walls and for fuel. Buffaloes also contribute more to producing gobar gas than cows for the simple reason that they are three times more in number than cows. Uma also lauds the benefits of drinking cow urine: "It is medicinal, it is anti-septic, it is organic, it is pure, it is free...", she proclaims. No one, however, has bothered to find out the medicinal properties of buffalo urine, which also could be anti-septic, organic and pure.
Uma Bharati loves cow and wants the world to know that she loves them dearly. So she has had herself photographed feeding them and cuddling their calves. She never has had herself photographed feeding buffaloes or embracing their calves. She also loves dogs and has four of them in her home. She does not mind being photographed with them. They may be trained to bring her morning newspapers from the door, but they cannot be trained to get her votes. Cows cannot be trained to do anything; nevertheless they are great vote-catchers. I come back to the question: "Why this unfair discrimination against buffaloes?"
I stumbled on a possible answer in a thesis written by an eminent Dalit scholar. He traces the pro-cow, anti-buffalo apartheid to the coming of Aryas to India. They were fair-skinned: the Brahmins of today are racially pure descendents of the Aryans and are chiefly responsible for the discrimination: Indian cows are white, buffaloes are black.
EARLIER COLUMNS
Khayyam was a rationalist
March 13, 2004
Look for your goldmine
March 6, 2004

Of scarecrows and political satire
February 28, 2004

The importance of punctuating thought
February 21, 2004

Ghalib knew his worth
February 14, 2004

In the sunset of their lives
February 7, 2004

Chennai, the city of achievers
January 31, 2004

Pakistanis are like us only
January 24, 2004

Farid was the first to use Punjabi in poetry
January 17, 2004

Sahirís tortured soul
January 10, 2004

The colourful story of dull dictionary
January 03, 2004

Guru Gobind Singh did not want to separate God from God
December 27, 2003

The art of doing nothing
December 20, 2003

Mantoís description of the mayhem of 1947
December 13, 2003

Election fever spreads
November 29, 2003

Jayalalithaa has grown more enigmatic with time
November 22, 2003
Film struck
I do not bother with books on the Indian cinema because I do not have the slightest interest in the subject. I havenít been inside a cinema house for over 20 years (except understandably to see my own Train to Pakistan) and find sitting for three hours in a chair a real pain. I can count the number of Indian films I enjoyed seeing on my fingertips; the rest, I left at the intervals. I found Hindi films untrue to life; contrived, make-believe, and unacceptable. I also have little respect for Indian filmstars, most of whom do not know how to act naturally and indulge in overacting, perhaps at the behest of their directors. It is a lot of naach and gana to provide manoranjan to the brainless. The few exceptions I can think of are Dilip Kumar, Naseeruddin Shah, Saeed Jaffrey, Shabana Azmi, Anupam Kher, Deepti Naval and, above all, Amitabh Bachchan. There must be a few others I am not aware of as I admit I have no time for films or filmstars. I am not a snob.
I was surprised that an intellectual egghead of the calibre of Lord Meghnad Desai, Emeritus Professor of Economics, London School of Economics, should write a book on Dilip Kumar. Apparently, in his younger days in Baroda, where he was born, and Bombay, where he went to college, Meghnad was a film-addict and saw some films as many as 14 times. Being of a scholistic bent of mind, he considered the impact films had on common people. He is right in concluding that Indian films are the singlemost important factor that influences Indian opinion. The real heroes of the masses are not politicians but filmstars.
Understandably, politicians go licking their boots to help them win elections. It has to be conceded that films have also played a positive role in nurturing patriotism, exposing the immorality of caste and religious discriminations and rousing peopleís conscience against the grinding poverty in which many of our fellow countrymen live.
Consequently, despite my indifference towards the Indian cinema and knowing nothing about the scores of films mentioned in the book, I read it with profit to myself. Perhaps I would not have done so if Meghnad Desai had not presented an autographed copy to me. He is an extremely suave, soft-spoken, sophisticated person with no airs, no phoon-phaan about being a member of Englandís House of Lords. I could well understand why the lovely, vivacious Kishwar Ahluwalia fell for him.
Tisca Chopra
I donít have many good-looking relations in my extended family. This one turned out to be an exception: the niece of a distant cousin. She breezed in one afternoon on the pretext of explaining the possibility of making a film based on one of my short stories. The pretext was soon put aside and I tried to find out more about her. She looked as pretty as any filmstar and was evidently into modelling, acting or directing. She also knew some of my other weaknesses. "You know I was born in Kasauli. My father was teaching in Sanawar, Kasauli, has for many decades been my summer home and I have a soft spot for anyone who has anything to do with it. When I was twelve, my father was appointed Principal of International School in Afghanistan. So we spent some years in Kabul. First, came the Russians. That was all right for us. Then, came the Taliban gunning for all foreigners, particularly non-Muslims. So we fled from Kabul and came to Delhi. I joined Hindu College. I did well; was a topper in my class. I started writing for journals and acting. I had shed my baby fat and got into modelling as well. I had no desire to get into the film business. Despite my reluctance to make films my career (I was then taken up by Buddhism), I got sucked in by Bollywood. I started acting in Binodini, Mahatma verus Gandhi, Salesman Ramlal, Inshallah, etc. I also picked up a handsome Air-India pilot as a husband and became Mrs Tisca Chopra. I have signed up for three more films: Hyderabad Blues 2, Lok Nayak Jayaprakash Narayan (acting the role of his wife), with Prakash Jha, and Cape Karma. The Bombay filmworld is changing fast; from naach gana, it has become intelligent, articulate, sensitive."
She looked pleased with life. I was happy I could drop the name of another celebrity who is related to me.
Naughty knot
Political philosophy is a knotty knot
If you go deeper, itís a naughty plot
And thatís which pays
Thatís why BJP says,
We are with RSS and yet we are not!
(Contributed by J.R. Jyoti, Secunderabad).