THIS ABOVE ALL
It is time to revive Hindustani
Khushwant Singh
THE spoken language of the common people of northern India is neither Persianised Urdu nor Sanskritised Hindi; it was, and is, Hindustani. Linguage bigots on either side ignore this fact and have made written Urdu and Hindi beyond our comprehension. It is time we revived our lingua franca, making a sangam by merging the two streams — Hindi and Urdu — into one and recreating a river of Gangetic grandeur. To do this we have to take two steps: one is to write Urdu in the Devanagari script. Urdu bigots must be made to understand that Devanagari can in fact reproduce almost every sound known in Urdu and that the Urdu script is fast dwindling to the one used by Muslims in some regions such as Kashmir and Uttar Pradesh. The second, and more important step to take, is to pressurise the Ministry of Human Resource Development to include Urdu poetry and prose written in Devanagari in school and college textbooks. Hindi bigots will stoutly resist this; their resistance must be overcome.
Fortunately, a great deal of Urdu poetry, both classical and modern, is now available in the Devanagari script with meanings of the more difficult words given in footnotes. There are many compilations of quotable Urdu couplets which compilers have put together, printed in Devanagari and Roman Urdu, using the English alphabet with their translations in English. A valuable addition to the increasing number of books of Urdu poetry in Devanagari is Gaagar Mein Saagar: A Collection of Most Quotable Urdu Couplets, compiled and translated by Commander Rajesh Sharma (Akshay Agencies).
Meerut-born Rajesh served in the Indian Navy for 30 years, before retiring two years ago. During his years in service, he wrote couplets which he found most quotable and translated them into English. He has not bothered to arrange them in the chronological order and only given a subject-wise division in the index. Nor has he given the dates of the poets he has selected and his selection is heavily biased in favour of the later poets. Although he has rightly given meanings of difficult words in simple Hindi and his English renderings are accurate, they fail to convey the resonance of words of the original. This is a shortcoming common to almost all translators of Urdu poetry with the exception of Victor Kierman's rendering of Faiz Ahmed Faiz. As a result when people who cannot understand Urdu are left wondering and ask themselves: "What is so great about this?" I will give just one example from Sharma's compilation. This is one of Emperor Bahadur Shah Zafar's memorable couplets:
Zafar aadmi usko na jaaneya ga
Ho voh kaisa bhee sahib-e-fahm-o-Zakaa
Jisey Aish mein yaad-e-Khuda na rahaa
Jisey taish mein kaauf-e-Khuda-na-rahaa
Sharma translates the lines as follows:
O Zafar, don't consider him a human being,
However intelligent and sagacious he may be,
The one who doesn't remember God amongst luxuries
When in rage, doesn't fear the wrath of God.
If he had laboured more over his translation and tried to rhyme his lines, he would have done more justice to Zafar.
Something like this:
Zafar, know him not as man
However, wise, sage or benign
Who in his pleasures forgets his God
And in his anger, wrath divine.
EARLIER COLUMNS

Recipe for cooking bestsellers
March 27, 2004

Relative appeal of beauty and films
March 20, 2004

Khayyam was a rationalist
March 13, 2004

Look for your goldmine
March 6, 2004

Of scarecrows and political satire
February 28, 2004

The importance of punctuating thought
February 21, 2004

Ghalib knew his worth
February 14, 2004

In the sunset of their lives
February 7, 2004

Chennai, the city of achievers
January 31, 2004

Pakistanis are like us only
January 24, 2004

Farid was the first to use Punjabi in poetry
January 17, 2004

Sahir's tortured soul
January 10, 2004

The colourful story of dull dictionary
January 03, 2004

Guru Gobind Singh did not want to separate God from God
December 27, 2003

The art of doing nothing
December 20, 2003

Manto's description of the mayhem of 1947
December 13, 2003

Election fever spreads
November 29, 2003

Jayalalithaa has grown more enigmatic with time
November 22, 2003
Romantic post-scripts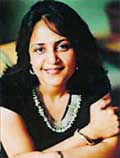 Jaishree Misra
Jaishree is about the prettiest Malayalee girl I have set my eyes on. That is saying a lot as Malayalee Nair women are among the most attractive in India. Dicky Misra is about the handsomest young Indian from western Uttar Pradesh. That is also saying a lot because western Uttar Pradesh produces many tall, strapping, young men. Consequently, the two make a very handsome couple. Their coming together is the stuff classic fairy-tale romances are made of. They happened to be in schools adjoining each other: she in a girls' convent, he in a boys' school. They exchanged glances and smiles while boarding school buses to return to their respective homes, while hawk-eyed nuns watched them. However, they managed to see more of each other after school hours till she was spotted by her father's friend riding pillion. Her father, an Air Marshal, gave her a sound thrashing, packed her off to Kerala and had her married off to a prosperous Malayalee businessman. The marriage was a disaster. She bore her husband a daughter, then decided to look for a job in Delhi. Meanwhile, Dicky who had settled in London happened to be visiting his parents. By sheer coincidence, the two met again. This time to consummate their relationship and live happily ever after in England, where her daughter joined them.
Jaishree Misra turned her true life story into a novel Ancient Promises (Penguin). It was an instant success. A second one Accidents like Love & Marriage was a variation of the same theme. And now we have a third, Afterwards with the same characters within the same framework and going over the same terrain. And yet it reads different and is equally riveting. This time Rahul Tewari comes from London to Kerala to learn how to play the mridangam. He rents a small house next to a large bungalow in which live the beautiful Maya, her rich husband and their daughter Anjali. They exchange pleasantries over a hedge dividing their gardens while Maya's husband is away on business. Long before the mridangam lessons are over, the three elope to set up a household in London. Meanwhile, Maya's parents shamed and stunned by her behaviour, have her death rites performed. She is informed: Padi addach pindan vekkal (death rites are done and the doors are closed forever). The rest of the story is different from the earlier ones. After two and a half years of living in blissful happiness, Maya is killed in a car accident. Rahul Tewari has to hand over Anjali to her biological father. A few days later, he flies to Kerala carrying Maya's ashes to be immersed in a river close to where her widowed mother is living. They offer their prayers jointly, while Rahul stands midstream and pours out the contents of the casket he brought with him from London to be carried by the river. It is a real tear-jerker. I am sure Jaishree Misra had tears in her eyes while typing it out: I had them in mine while I was reading it. It is a powerful post-script to what she had written earlier.
Naughty knot
Political philosophy is a knotty knot
If you go deeper, it's a naughty plot
And that's what pays
That's why BJP says:
We are with RSS and yet we're not.
Contributed by J.R. Jyoti, Secunderabad