THIS ABOVE ALL
Recipe for cooking bestsellers
Khushwant Singh


SOME time ago, I wrote about Paulo Coelho's The Alchemist, which remained on the top of the world's

bestsellers' lists for many months and sold over 20 million copies. I tried to analyse why it became such a phenomenal success. It is written in very simple, lucid prose and had a message of hope. I was somewhat grudging and condescending in my appraisal. So my friend Zakir Ansari who is the Sales Manager of HarperCollins sent me another of Coelho's novels Eleven Minutes, also published by them. The jacket claims that Coelho is one of "the most widely read authors in the world today."He has sold more than 43 million books and has been translated in 56 languages that would probably make him the world's richest pen-pusher.
Eleven Minutes is an intriguing title. Half-way through the novel, the reader learns that, according to Coelho, sexual intercourse lasts just about that time. And they are the most crucial minutes in the lives of adult males and females. So the most important ingredient in cooking a best seller is sex. Next, comes religion, and the third, violence. The three make a heady cocktail; the most important ingredient being sex — the more, the better. But before sex, there has to be a build-up love, courtship and romance. Coelho starts his tale with a quotation from the scriptures, then he introduces his main character, 11-year-old Maria, daughter of a poor peasant living in a remote village in Brazil. Her first crush is on a schoolmate who asks her to lend him her pencil. She can see he has one in his pocket. She is too shy to respond to his overture, but hopes he will repeat it. At 19, she is a well-rounded, dusky Brazilian beauty. She has her second heartbreak but decides to first try her luck as a model or a Samba dancer in the capital Rio de Janerio. She is picked up by a Swiss procurer to work in a dance hall in Geneva. She accepts the offer and arrives in Switzerland only to discover that she is meant to be a prostitute. Her first client is a rich Arab who gives her more money than she has ever seen. Then she gets a regular job in a nightclub-cum-pick-up joint called Copacabana. There are over two dozen girls — Europeans, Fillipinos, Spanish and Italian working there. It has also a regular clientele of whore-mongers. The drill is set— first ask for a fruit cocktail, then dance with the client who then pays the tavern-keeper his commission and takes the girl to his hotel and pays her for her services. Maria is quick to fall in line. She services three clients every night and earns a lot of money. But there is no love or romance. In her months in Geneva, she has only two affairs which she finds fulfilling. One is with a sado-masochist who whips her. The second, with an artist, comes closest to what she has been looking for in life.


EARLIER COLUMNS

Relative appeal of beauty and films
March 27, 2004

Khayyam was a rationalist
March 13, 2004

Look for your goldmine
March 6, 2004

Of scarecrows and political satire
February 28, 2004

The importance of punctuating thought
February 21, 2004

Ghalib knew his worth
February 14, 2004

In the sunset of their lives
February 7, 2004

Chennai, the city of achievers
January 31, 2004

Pakistanis are like us only
January 24, 2004

Farid was the first to use Punjabi in poetry
January 17, 2004

Sahir's tortured soul
January 10, 2004

The colourful story of dull dictionary
January 03, 2004

Guru Gobind Singh did not want to separate God from God
December 27, 2003

The art of doing nothing
December 20, 2003

Manto's description of the mayhem of 1947
December 13, 2003

Election fever spreads
November 29, 2003

Jayalalithaa has grown more enigmatic with time
November 22, 2003
The novel revolves round sex at its rawest form. "Eleven minutes. The world revolved around something that only took eleven minutes. And because of those eleven minutes in any one twentyfour-hour day (assuming that they all made love to their wives everyday, which is patently absurd and a complete lie), they got married, supported a family, put up with screaming kids, thought up ridiculous excuses to justify getting home late, ogled dozens, if not hundreds, of other women with whom they would like to go for a walk around Lake Geneva, bought expensive clothes for themselves and even more expensive clothes for their wives, paid prostitutes to try to give them what they were missing, and thus sustained a vast industry of cosmetics, diet foods, exercise, pornography and power, and yet when they got together with other men, contrary to popular belief, they never talked about women. They talked about jobs, money and sport.
"Something was very wrong with civilisation, and it wasn't the destruction of the Amazon rainforest or the ozone layer, the death of the panda, cigarettes, carcinogenic foodstuffs or prison conditions, as the newspapers would have it.
"It was precisely the thing she was working with: Sex."
In another passage Coelho writes about Maria's notion of love: "Everyone knows how to love, because we are all born with that gift. Some people have a natural talent for it, but the majority of us have to re-learn, to remember how to love, and everyone, without exception, needs to burn on the bonfire of past emotions, to relive certain joys and griefs, certain ups and downs, until they can see the connecting thread that exists behind each new encounter; because there is a connecting thread.
"And then, our bodies learn to speak the language of the soul, known as sex, and that is what I can give to the man who gave me back my soul, even though he has no idea how important he is to my life. That is what he asked me for and that is what he will have; I want him to be very happy".
The only concession he makes to love is to admit that "making love is more than just an encounter, it is a genital embrace".
Spurious drug
Sometime ago, in a weak moment,
Disgusted with aimless strife
I tried to embrace peaceful death
And end my sad, miserable life.
I went to a reputed medical store
And purchased a potent poisonous pill.
This effective deadly device I hoped
Gap between pain and peace would instantly fill.
I consumed the drug and fell asleep
But death is death, not a fun.
Next day I got up as usual.
Alas: the drug was a spurious one;
Courtesy: G.C. Bhandari, Meerut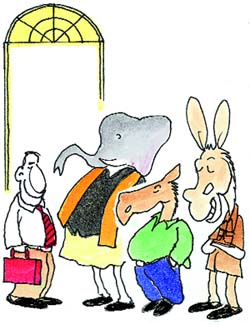 Tax exemptions
A businessman known for his honesty was never questioned by Income-Tax officers on the returns he filed. Once a new tax commissioner, scanning his returns, found some expense item baffling. They included expenditure on elephants, horses and donkeys. The commissioner summoned the businessman to his office and asked him to explain these items, particularly as he did not have elephants, horses or donkeys. Before entering the commissioner's office, the businessman gave a tip of Rs 10 to his chaprasi sitting outside the commissioner's room. Then he explained the items on his expense list. "When some minister or politician comes to this city, I have to spend large sums of money on their hospitality and give donations for election campaigns. This I put under the heading 'expenditure on elephants'. I also have to keep babus happy and pay them regularly to ward off their wrath: this expenditure I put under the head 'expenditure on horses'. Before being allowed to enter your room, I had to tip your chaprasi. This expenditure is shown as 'expenditure on donkeys'.
Contributed by S.R. Rakheja, Delhi