BJP's 'India Shining' losing sheen: Bansal
Chandigarh, April 18
The Bharatiya Janata Party's self-created hype of 'India Shining' is phasing out day by day, said Mr Pawan Kumar Bansal, the Congress candidate for the local seat, while addressing a rally here today.



A cycle rally being taken out in support of Mr Pawan Kumar Bansal, Congress candidate from Chandigarh, at Colony No 4 in Chandigarh on Sunday. — A Tribune photograph
Decade sans development, says Chautala
Chandigarh, April 18
The successive governments have pushed back the development of the city by at least a decade, said Mr Om Prakash Chautala, the Chief Minister of Haryana. He was addressing a rally at Nehru Park, Sector 22, here this evening.
National Conference leader Farooq Abdullah, Haryana Chief Minister Om Prakash Chautala and Indian National Lok Dal candidate from Chandigarh Harmohan Dhawan share the dais at a public meeting at Nehru Park in Chandigarh on Sunday. — Tribune photo by Parvesh Chauhan.
Jain promises changes in building bylaws
Chandigarh, April 18
Mr Yash Pal Mahajan, president of the local unit of the BJP, said Mr Pawan Kumar Bansal, Congress candidate for the Chandigarh seat, was a disappointed man.
Sister releases Bhagat Singh's memoirs
Chandigarh, April 18
It was an emotional moment for Ms Parkash Kaur who was invited to release a book in the memory of her brother martyr Bhagat Singh at Uttam Restaurant, Sector 46, here today. Fighting ill health and age, the lady made it a point to be present on the occasion which recalled the sacrifices of the likes of Shaheed Bhagat Singh.

Bibi Parkash Kaur, sister of Sardar Bhagat Singh, releases a book in memory of her brother, at Uttam Restaurant, Sector 46, Chandigarh, on Sunday. — Tribune photo by Pawan Sharma
Netaji and his men in pictures
Panchkula, April 18
An exhibition of rare photographs depicting the life and times of Netaji Subhas Chander Bose was the highlight of the function organised on the occasion of the Azad Hind Fauz Divas at the Arya Samaj in Sector 9 here today.
Anger leaves widower with 90 pc burns
Chandigarh, April 18
A 60-year-old widower set himself afire today. Earlier, he beat up his two sons, a labourer and a rickshaw-puller in Mani Majra.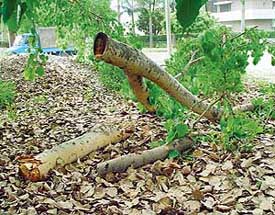 Residents of Sector 9, Chandigarh, found certain persons chopping branches of a 50-year-old Peepal on Sunday morning. They called the police. The police came in time and saved the tree. However, no case has been registered. — A Tribune photograph
MLA blames PSEB for short-circuit mishap
Mohali, April 18
The Deputy Speaker of the Punjab Vidhan Sabha and Kharar MLA, Mr Bir Devinder Singh, today asked Punjab State Electricity Board (PSEB) officials to probe the accident that caused severe burns to eight children of a slum colony while they were playing under high-tension electricity wires.
Sanghi is welfare federation chief
Chandigarh, April 18
A nominated Councillor, Mr P.C. Sanghi, today broke the 15-year-long hegemony of Air Marshal Randhir Singh (retd) over the Federation of Sector Welfare Associations (FOSWAC) by defeating the incumbent Chairman by a margin of 12 votes.
Unemployed persons get certificates
Mohali, April 18
Certificates were given to 25 unemployed persons who have undertaken technical skills training in entrepreneurship development programme for repair and assemble solar energy systems.
MORNING CHATTER
Get out of comfort trap
WHEN Mr Manmohan S. Kohli, city restaurateur and Chief Executive of one of Chandigarh's oldest hotels, Aroma, sent his son overseas to study he knew this move would be instrumental in shaping his character. Getting international exposure was one part of the story.
Making adults literate
Chandigarh, April 18
"Khelo Seekho Parao", a unique literacy programme by Marga and Kim Singh, a couple, in collaboration with the Yuvsatta, an NGO, has started showing results in Colony No. 5 here. Started in December, 2003, as many as 200 totally illiterate men and women taught under the programme can now read and write.
READERS WRITE
Leprosy patients discriminated against
THE news item "Leprosy patients fear casting vote" that appeared in Sunday Chandigarh Tribune (dated 28.3.2004) on the front page reveals the painful state of affairs as well as apathy of the district administration, Ambala, that has set up a separate polling booth since 1985 for the 60 voters of Kushat Ashram, Ambala Cantonment.

Height of lawlessness

The eve on the march