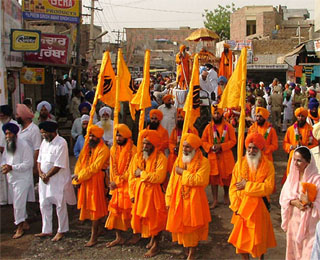 A nagar kirtan procession led by Panj Piaras being taken out from Gurdwara Tutti Gandi Sahib in Muktsar towards Sarai Naga village, where the concluding function in connection with the 500th birth anniversary of Guru Angad Dev was organised on Sunday.
— Tribune photo by Kulbir Beera
Compare copies with original CDs in Badal case, says court
Ropar, April 18
The Special Court yesterday granted permission to compare copies of CDs supplied by the Vigilance Bureau with original video cassettes relating to corruption and disproportionate assets case against SAD chief and former Chief Minister Parkash Singh Badal and others.
CM, Sukhbir Badal receive nagar kirtan
Muktsar, April 18
Thousands of people belonging to different sections of society came out on the streets to pay obeisance to Guru Granth Sahib and have a glimpse of the nagar kirtan which was taken out from the Tutti Gandi Sahib gurdwara this morning to mark the 500th birth anniversary of Guru Angad Dev.
Punjabi varsity to hold wrestling contest today
Guru Angad Dev's 500th birth anniversary
Patiala, April 18
To commemorate the 500th birth anniversary of Guru Angad Dev, the Punjabi University has planned to organise competitions in those activities which were introduced and highly valued by the Guru himself.


Tarlochan decries misuse of religion by minorities
Tarn Taran, April 18
Mr Tarlochan Singh, Chairman, National Commission for Minorities, has taken note of the use of religion for political motives by the minorities, especially the Muslim community, in the country. The NCM Chairman, who was here today to inaugurate the women's block of the Bhai Veer Singh Birdh Ghar, being run by the local committee of the Chief Khalsa Diwan, said till now the word "monority" had only been used for the Muslim community, even though Sikh, Christian, Buddhist and Parsi minority communities were also registered with the NCM.
World Heritage Day celebrated
Amritsar, April 18
An independent Chapter of INTACH will soon be set up at Faridkot while efforts are afoot to set up similar chapters at Jalandhar and Ferozepore. This was revealed by Dr Sukhdev Singh, Punjab state convener of INTACH at a meeting of the district unit held to commemorate World Heritage Day here today.
Sainik board ties up with IT group to provide jobs
Amritsar, April 18
The Sainik Welfare Board, Punjab, has tied up with a Bangalore based IT group to provide jobs to ex-servicemen and their family members on priority. This was stated by Mr J.S. Jaswal, Director, Sainik Welfare, Punjab, while talking to this correspondent after presiding over a function to disburse grants among needy ex-servicemen and their family members here today.
Ideology missing in politics, say experts
Chandigarh, April 18
Eminent political scientist and former Chairman of the National Minorities Linguistics Commission, Mr Harbhajan Singh Deol, said here today that Indian coalition politics was devoid of any idealism or dynamism. Political coalitions in the country were driven by the sole objective of capturing power.
Blast relief: Dang for CM's intervention
Amritsar, April 18
Mr Satya Pal Dang, veteran CPI leader, today urged the Chief Minister, Capt Amarinder Singh, to intervene as no compensation had been given to victims who were injured in February 19 explosion in the court complex here. Many shops and goods were damaged in the blast.
Sikh panel points out bias against women
Patiala, April 18
The Sikh Nation organisation has urged the Shiromani Gurdwara Parbandhak Committee to allow Sikh women to perform seva and kirtan in the Golden Temple, Amritsar. He said depriving the Sikh women of their right to perform seva was wrong, discriminatory and against the teachings of great Sikh gurus.
Roza Sharif Urs starts
Fatehgarh Sahib, April 18
The two-day annual Roza Sharif Urs started at the tomb of Sufi saint Sheikh Ahmad Farooqui in Sirhind, today. Thousands of devotees from across the country, Pakistan and Bangladesh reached here to participate in the 392nd annual Urs.
PSEB to install 1800 transformers
Amritsar, April 18
In view of the paddy season, the Punjab State Electricity Board will install 1800 new distribution transformers besides increasing the capacity of 550 other transformers in the border zone. This was stated by Mr H.S. Sood, Member, Distribution, PSEB, during his visit to border villages here today.
Army man dies in accident
Fatehgarh Sahib, April 18
An Army jawan died on the spot and three others were seriously injured, when an Army truck overturned on the GT Road at Ambey Majra village, near Mandi Gobindgarh town. The injured were immediately taken to the Civil Hospital, Mandi Gobindgarh. After giving first aid, the injured were refered to the Army Hospital, Ambala.
Five killed in accident
Kapurthala, April 18
Five persons were killed and 15 injured when a four-wheeler overturned near Mudowal village on the Subhanpur-Nadala road this morning.


Doctor ordered to pay Rs 50,000 compensation
Abohar, April 18
The District Consumer Disputes Redressal Forum has directed a medical practitioner to pay Rs 50,000 compensation and Rs 1500 as cost of litigation to a patient. The order was passed by Mr Amarjit Singh Katari president, and Mr. S.K. Gupta and Mrs Parveenjit Kaur, members of the forum.


Farmers to get eight hours of power supply
Phillaur, April 18
The Punjab State Electricity Board is making arrangements to provide power for eight to 10 hours daily to farmers during paddy season. This was stated by PSEB Member, Operation, H.C. Sood while addressing a gathering at Rurrka Kalan village in Phillaur subdivision today. He was here to hear the problems and grievances of the farmers.


Truck with stolen wheat impounded
Moga, April 18
The Punjab Police today claimed to have recovered a truck, bearing a fake registration number, laden with 105 quintal of stolen wheat at Billaspur village. The wheat was procured by the Warehousing Corporation.
Policeman nabbed for stealing
Amritsar, April 18
The Civil Lines police has nabbed Harinder Singh, a police constable posted in Majitha police district, along with Sanjiv Kumar, a resident of Batala road, for allegedly being involved in many theft cases. The police recovered gold jewellery and mobile phones during a naka here.


Pre-nursery school opened
Bathinda, April 18
Ms Neeru Kukreja, president of Little Kingdom Pre-Nursery School, opened the 14th branch of the school here today. Speaking at the inaugural function of the school, Ms Kukreja said that 10 per cent of the seats of the school had been reserved for economically weaker sections of society.
Punjabi varsity Reader gets US invitation
Patiala, April 18
Dr Saroj Rani, a Reader of the Fine Arts Department of Punjabi University, has been invited by the University of California, USA, to present a paper on the Punjabi art. Dr Rani, who was instrumental in renovating the university's museum and art gallery, has five books and numerous research papers to her credit.