PUNJAB
HARYANA
JAMMU & KASHMIR
HIMACHAL
REGIONAL BRIEFS
NATION
OPINIONS
MAILBAG
BUSINESS
SPORTS
WORLD

Sunday, May 30, 2004, Chandigarh, India
Updated at 3:00 am (IST)
Reforms with human face: Yes, Mr PM, says Bengal CM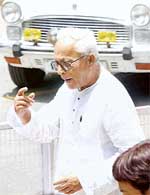 New Delhi, May 29
In a move to dispel the notion that the Communists in the country are against foreign capital investments, the West Bengal Chief Minister, Mr Buddhadeb Bhattacharjee, today said Kolkata had received "maximum" foreign investments in the field of IT and communications.
West Bengal Chief Minister Buddhadev Bhattacharjee comes out of the Prime Minister's residence in New Delhi on Saturday after a meeting with Dr Manmohan Singh. — PTI photo

CAST YOUR VOTE
Should wearing helmets be compulsory for all men and women on two-wheelers?

AGRICULTURE
EDUCATION
HEALTH & FITNESS
SCIENCE & TECHNOLOGY
FORUM
CAREER GUIDE
SPORTS
HER WORLD
TRIBUNE CLASSIFIEDS
In Her World today

M.K. Narayanan appointed Special Adviser in PMO
New Delhi, May 29
Ace intelligence man M.K. Narayanan was today appointed Special Adviser to Prime Minister Manmohan Singh with the rank of Minister of State, thus creating the third major power centre in the government after Principal Secretary to PM T.K.A. Nair and National Security Adviser J.N. Dixit.
Fired disabled Punjab employees seek justice from Sonia

New Delhi, May 29
Manish Kumar's supposedly permanent job lasted barely nine months. Pyara Singh was more fortunate, it lasted a few years.


Dismissed physically challanged employees of the Punjab Government wait outside the residence of Congress President Sonia Gandhi in the Capital on Saturday.
— Tribune photo by Mukesh Aggarwal

BRIDES WANTED
GROOMS WANTED
OTHERS
HOW TO PLACE ADVTS
THE TRIBUNE MAGAZINES
On Sundays

On Saturdays


Akalis rue move to postpone SGPC poll
Chandigarh, May 29
Both the Shiromani Akali Dal and the Shiromani Gurdwara Parbandhak Committee are up in arms against the reported move of the Congress-led United Progressive Alliance government at the Centre to postpone the gurdwara elections scheduled to be held on July 11.
Mirwaiz's cousin shot at
Srinagar, May 29
Militants today attacked the house of former Hurriyat Conference chairman Maulvi Omar Farooq hours after injuring his cousin, a former bureaucrat Maulvi Mushtaq.
Trust to build temple, mosque in Ayodhya
Ayodhya, May 29
The Managing Trustee of Sri Raj Rajeshwar Sitaram Trust Shivendra Sahi today said the Trust would construct a temple devoted to Lord Ram and a mosque on a land situated about 300 metres away from the acquired land here and two former Prime Ministers are expected to take partin foundation- laying ceremony slated for August 7.
Bajrang Dal disrupts fashion show
Kota, Rajasthan, May 29
A fashion show to promote Kota Doria sarees was cancelled here today after Bajrang Dal activists ransacked the venue, the police said.


Peacock succumbs to gunshot wound
Sundernagar, May 29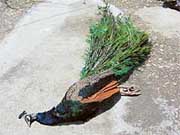 A peacock which was injured by a gunshot died here yesterday while it was being taken to the wildlife office by a resident of Keran village, near here.

The peacock, which succumbed to a gunshot wound, at the office of the wildlife range in Sundernagar on Friday.


Agriculture to get priority, assures FM
May

29

, 2004
CMP a neat balancing act
May

28

, 2004
Broad consensus on CMP
May

27

, 2004
Criminal on bail in Manmohan Ministry
May

26

, 2004
DMK threatens to pull out
May

25

, 2004

Portfolio allocation throws up surprises
May

24

, 2004

Manmohan heads 68-member Ministry
May

23

, 2004

Allies bargain hard for key portfolios
May

22

, 2004

Indo-Pak friction must end: Manmohan
May

21

, 2004

Manmohan Singh to be PM
May

20

, 2004